Life at two A&E units: 'People just need looking after'
Across England last year, accident and emergency departments dealt with more than one million more patients compared to three years ago and many say they are struggling to cope.
Ahead of a review being carried out by NHS Medical Director Prof Sir Bruce Keogh about the future of emergency provision in hospitals, BBC News Online visited hospitals in two contrasting areas to find out what the situation is like there.
Accident and emergency, Salford Royal Hospital
A problem drinker who cut his mouth swigging from a broken bottle has been brought in by ambulance, making it his third visit of the day.
Just an hour earlier he was released when he urinated in the department.
The pungent smell of stale alcohol drifts from the cubicle.
The idea of having quiet days in A&E are "long gone", says Dr Bruce Martin, an emergency medicine consultant.
"Most of the time I'm in resus[citation] and I expect to see two or three critically ill patients who need a high level of care," he said.
"Most days we have at least one major trauma case."
There are nine people in the waiting area of the A&E unit on this weekday lunchtime, but others have been rushed straight through on stretchers.
'Lot of blood'
In January, the unit became a major trauma centre, meaning it now takes patients with multiple, life-threatening injuries - caused by anything from road crashes to shootings - from across Greater Manchester.
It was also the location Prime Minister David Cameron chose last month to announce an extra £500m funding for the English A&E departments struggling most.
However, the most common accidents they see in Salford involve people who have fallen or have been in motorbike crashes, according to Dr Martin.
Peak times for Salford's A&E are between 10:00 and 19:00. Numbers wane into late evening and then peak again between midnight and 01:00.
One of Dr Martin's patients arrives at hospital with her concerned husband.
"There was a lot of blood," he says.
His wife, who has motor neurone disease, slipped on a grape in a supermarket and cut her head, leaving them both worried.
But, after a scan, it turns out there is no lasting damage and the woman is sent home.
By 14:00 BST, four patients are in resuscitation and another seven are suffering from major injuries.
A woman arrives at A&E unable to get her regular medication after having just changed doctors. The team liaises with her GP surgery to make sure she gets the right care elsewhere.
Dr Martin said that about 30% of the patients who arrive at A&E could have been seen by their GP instead, and about 10% of people who turn up at the hospital are just told to go and see their own doctors instead.
All GPs in Salford are now made to assign at least two appointments a day for people referred from A&E.
"Emergency services are very stretched at the moment," he said.
But despite this, the hospital has managed all year to meet the government's four-hour target to see 95% of patients within four hours.
At the 16:00 BST handover, doctors discuss the most seriously-injured patients, who now also include a man who became ill while climbing a ladder and an elderly man who collapsed in the street. Their illnesses remain a mystery.
Meanwhile, a patient retches loudly in a nearby cubicle while a woman with severe stomach cramps is wheeled through the department taking gas and air.
Accident and emergency, Grantham and District Hospital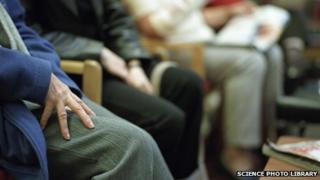 Over in rural Grantham there are five people waiting patiently in the hospital's single-storey A&E.
In one corner, a mother and two children are playing in a glassed-off children's waiting area. One patient says she has been warned she will have an hour-and-a-half wait.
It can be hard, says senior sister Teresa Shepherd, for people to understand why they have to wait to be seen on such an apparently quiet day.
"Over there," she says, thumbing at a pair of secure-access double-doors, "that's where all the action is."
Mrs Shepherd is Grantham born-and-bred, along with many of the hospital's 894 staff.
Often, she says, they are on first-name terms with whoever walks through the door.
Since the hospital's mental health service closed, A&E has increasingly been the place mental health patients choose to go for treatment.
The removal of many maternity services from the hospital has also meant some visits from mothers-to-be in the latter stages of labour - the most recent A&E birth was in June.
The team also sees plenty of "worried well", such as a man concerned about his "itchy ears".
"People just need looking after," says junior sister Kay Myciuk
"When you work in a big city hospital, you have every speciality under one roof.
"If you need a neurologist or a spinal surgeon, you page them. Here, the doctors and nurses need to think on their feet and solve problems quickly."
And - following the closure of those hospital services - there have also been fears A&E could close.
Since 2007, the most seriously-injured people have been sent to Lincoln, a specialist trauma centre like Salford. But that is 30 miles away.
Farming accidents
Mrs Shepherd said she thought it was unlikely Grantham would lose its A&E.
"We cover such a large area," she said.
"There's no way they could manage without us."
The hospital serves four counties - Lincolnshire, Nottinghamshire, Leicestershire and Rutland - and its A&E sees between 80 and 100 cases a day.
Many of the casualties have suffered farming or horse-related accidents.
Famous faces have passed through the A&E, including dukes and duchesses from the local aristocracy and even members of the Royal family. But the nurses remain tight-lipped about their identities.
'Make a fuss'
Mrs Shepherd said they were seeing increasingly poorly people arriving at A&E.
"I've noticed patients are waiting until they're really ill before they come and see us," she said.
"Particularly elderly people - they don't like to make a fuss."
The hospital gets busiest from early afternoon into evening.
Saturday and Sunday afternoons are when visits reach a peak, said Mrs Shepherd.
"People spend all week at work, then at the weekend they go and injure themselves, playing football or doing DIY," she said.
In one of the curtained examination rooms, one patient, Phil, is waiting for a verdict on his fractured elbow after he fell from a ladder.
"They told me I'd done a good job of it," he says, ruefully.
It turns out it is broken in four places and the orthopaedic surgeon is on his way.
Outside, staff are dashing about after an ambulance pulls up outside.
"Stretcher coming through," one nurse shouts.
"You step back into the waiting room and you can't tell any of that is going on behind the scenes," said Mrs Shepherd, walking back through the double doors.
The staff work hard to stick to NHS targets.
"We rarely fall below 95% [being seen within four hours]," said Mrs Shepherd.
"We know Grantham and we know our patients.
"We make sure our standards are what we would expect for our own parents and children."