Horse fall coma woman graduates from Worcester College of Technology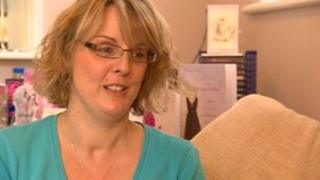 A woman whose parents were told to prepare to switch off her life support machine after she fell off a horse has graduated from college.
Sarah Kemp, 35, from Kidderminster in Worcestershire, was in a coma for two months after the accident in 1999.
She has completed an HNC in chemistry at Worcester College of Technology after years of learning how to eat, walk and write again.
Ms Kemp said she wanted to do the part-time course to prove herself.
She said she cannot remember anything about the day of the accident, which happened at Kinver Edge in Staffordshire when she was 20.
'Broken face'
"It happened on a Sunday and my last memory is of the Saturday, I don't remember anything," Ms Kemp said.
"I had a broken face basically, I've got pins and plates in my skull which was shattered and I ripped the membranes around my brain and damaged the optic nerve."
Ms Kemp's parents were advised that even if she survived her first night in hospital they may have to make a decision about turning off her life support machine the next day. But she pulled through and slowly recovered.
She said: "The first five years [of rehabilitation] were the worst. It's been a gradual process.
"I lost the use of my throat for swallowing, eating and talking and that took about six weeks to get back.
"Learning to walk and learning to write again took a bit longer but I had to do it - I couldn't not."
Ms Kemp, who works part-time at The Range store in Kidderminster, said she first started a nursing course in 2002 but stopped after finding it was too much too soon after her accident.
She started her part-time HNC at Worcester aged 30 and graduated on Friday.
"I used to get very tired very quickly especially doing computer research but it was a push in the right direction.
"It was a learning curve to prove to myself that I could do something and that I've still got some sort of ability to learn."
Ms Kemp's father, Jim Kemp, said his daughter's success was "beyond belief".
"We never thought we would make it here," he said.