Somerset man pleads guilty to hunting fox with dogs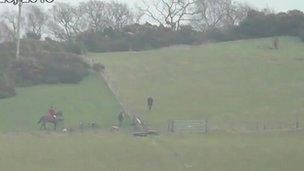 A huntsman has been fined £500 after he admitted illegally hunting a fox with dogs, a crime that was caught on camera by an animal welfare group.
David Parker, 39, from Seavington St Mary, Ilminster, Somerset, pleaded guilty at Yeovil Magistrates' Court.
Hounds from the Seavington Hunt were filmed in January 2013 pursuing a fox in the area around Causeway Lane, Winsham in Dorset.
It was recorded by the International Fund for Animal Welfare (IFAW).
The footage was used in the case brought by the RSPCA - it cost the charity a total of £4,783 to bring the case to court.
Hunting foxes with dogs has been illegal since 2005 but they can chase a scent and flush out foxes to be shot.
RSPCA inspector Jo Daniel said: "The footage, provided by IFAW, clearly shows the members of the hunting party searching the area, along with the hounds, before the fox fled and the huntsman pursued it.
"We cannot stand by whilst laws which are there to protect wild animals are broken and, if sufficient evidence is provided to us, we have an obligation to act to prevent further such offences from occurring."
Robbie Marsland, IFAW's UK director, said the group's monitors would "remain vigilant in case anyone else thinks they are above the law".
Parker, who was ordered to pay £500 in costs, pleaded guilty to a charge of hunting a fox with dogs contrary to Section 1 of the Hunting Act 2004.
The fox does not have to have been killed or maimed for an offence to have been committed.
Related Internet Links
The BBC is not responsible for the content of external sites.