Paramedics reveal what it is like on the front line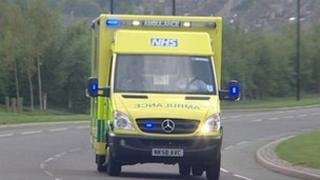 I've only once had to travel in the back of an ambulance with the sirens wailing and blue lights flashing.
It was a long time ago and it all ended well, but once was enough.
From the moment we'd called 999 to the ambulance arriving and the subsequent journey to A&E it seemed like a lifetime.
We all know that speed is of the essence.
The faster a paramedic can get to you the sooner you can be stabilised, assessed and taken to the most appropriate hospital for your condition.
For that reason we naturally assume that when you have to call on the ambulance it will turn up right away and have all the equipment it needs on board.
Staff pressures
According to those working on the frontline within North East Ambulance Service - that's not something we can be sure of.
NEAS wouldn't be interviewed about its own staff's concerns but in a statement said all of the NHS was under stress and the organisation has its own internal systems for employees to raise any issues.
In the programme we also spent a day with the A&E team at Gateshead's Queen Elizabeth Hospital to see at first hand the pressures it is under.
If you've any experiences or views on the state of the NHS's Accident and Emergency services you'd like to share, please add your comments below.
Inside Out is on BBC One at 19:30 BST on Monday, 16 September 2013