Gloria Foster death: Anger over care report timescale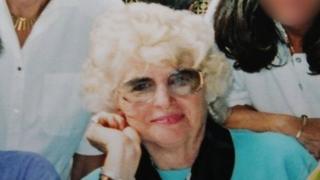 A friend of an elderly woman who was left at home without care for nine days is angry it has taken so long for a report into her death to be published.
Gloria Foster, from Banstead in Surrey, died in February after her care agency shut with no replacement, following a police and UK Border Agency raid.
Two council staff were suspended after Monday's report into her care.
Ann Penston said one of Mrs Foster's cousins had died since February and her sister was in a very "fragile state."
"It's been horrific. For the last eight months There's not a day gone by when I haven't questioned, questioned, questioned everything," added Ms Penston.
"I am cross that the council [has taken so long] and I know, it was explained to me by the chairman of the adult safeguarding serious review, that they had to wait for the police to do their review but it's very clear from the report that they knew, and I also had an inkling of what had happened a long time ago.
"At least they've come out and admitted it, thank god they've admitted it very clearly."
'Understand her distress'
Following the publication of the serious case review on Monday, Surrey County Council apologised for its "failure to help" Mrs Foster.
It said it had already made changes following the "dreadful case" and would now act to "prevent anything like this happening again".
The 81-year-old widow was found by a district nurse suffering from dehydration and starvation nine days after Agency Carefirst24 was shut down. She died in hospital two weeks later.
The Surrey Safeguarding Adults Board report into her death found "professional omissions" were made by a social worker at the Reigate and Banstead office.
The board published 14 recommendations, including requesting council investigations into how information supplied by the Metropolitan Police before the raid was dealt with and the absence of any record of a telephone call being made to Mrs Foster to check her welfare.
Sarah Mitchell, Surrey County Council's strategic director for adult social care, said: "I absolutely understand why she [Ann Penston] has that concern and that she is distressed. This is not what we would have wanted to have happened at all and we share her concern.
"One of the things we want to do is to get this right for the future so that we know that social workers and managers are really clear about their responsibilities if a domiciliary care agency or a home closes and that we get it right."