A14 road toll plan a 'worrying precedent'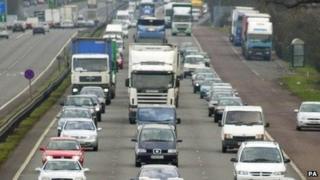 A plan to set up the UK's first road toll in 10 years sets a "very worrying precedent", the Road Haulage Association (RHA) has said.
The RHA has produced anti-toll stickers and is asking lorry drivers using the A14 in Cambridgeshire, where the tolling is proposed, to display them.
It said the Highways Agency's plan to charge up to £3 for lorries was "an attack on the economy in East Anglia".
The government said alternative un-tolled routes could still be used.
The Highways Agency is consulting on the £1.5bn plan for the A14, which links the Port of Felixstowe with the Midlands and M6, via Cambridgeshire and Northamptonshire.
'Swallow the costs'
A toll of between £1 and £1.50 for cars, and double for lorries, is being proposed for a stretch of the road south of Huntingdon to help fund part of the improvements.
The sticker campaign reflects the RHA's concerns that tolling the road could put hauliers in East Anglia at a disadvantage.
It said the plan could "undermine the competitiveness of the Port of Felixstowe, and added: "It would set a very worrying precedent for the development of a patchwork of local tolls on the Highways Agency network."
Paul Dawson, from Suffolk haulier Deben Transport, said the toll could add up to £300,000 a year to his running costs.
Mario Chappell, of Peterborough-based JC Couriers, said he was going to put the anti-toll stickers on all 12 of his vehicles and would encourage others to do the same.
"I'm incensed by the idea of a toll on a route we have to use every day, and I am just going to have to swallow the costs," he said.
"I cannot pass that on to my customers."
'Must be realistic'
Those in favour of the proposed toll include the deputy prime minister, Nick Clegg, and Northamptonshire-based Chartered Institute of Logistics and Transport (CILT).
Mr Clegg said motorists using the new road should help to pay for improvements and not expect the taxpayer to foot the entire bill.
Daniel Parker-Klein, policy manager for CILT, said: "It is important for the whole of the UK economy that this vital east to west route is upgraded as soon as possible.
"We must be realistic. Paying for a greatly improved A14 through tolls is probably the quickest and most likely way this major infrastructure upgrade can be funded."