A14 upgrade: Suffolk "overlooked" by consultation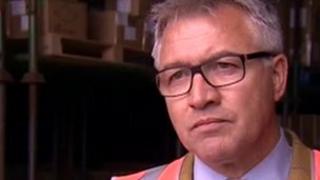 Suffolk has been "overlooked" by a consultation over the proposed £1.5bn A14 upgrade, a business leader says.
The Highways Agency has set up public exhibitions across Cambridgeshire for the proposal, which includes the first UK toll route in 10 years.
But Stephen Britt, from Suffolk Chamber of Commerce, said the plans should be taken to neighbouring counties.
The Highways Agency said the consultation was open to everyone with an "interest" in the scheme.
"The exhibitions are being held along or near the route of the scheme," a spokesman said.
The consultation ends on 13 October.
'Worried customers'
The A14 links the Port of Felixstowe, in Suffolk, with the Midlands and M6.
Mr Britt said the fact no exhibitions had been held outside of Cambridgeshire as part of the consultation was "tantamount to being ignored".
"From the point of view of the Highways Agency, the road building is in Cambridgeshire and that is their mindset, regardless of who is paying for it," Mr Britt said.
"We do feel overlooked."
If the plans go ahead, a new stretch of the A14 will be built between Ellington and Swavesey and the A1 widened between Brampton and Alconbury.
Lorries could be charged £3 and cars between £1 and £1.50 for using the 12-mile stretch of toll road, which would be south of Huntingdon.
The revenue would help pay for the upgrade of the road.
Mr Britt, who is also managing director of Anchor Storage, said: "Businesses in Suffolk are very against the toll.
"I've had communications from my suppliers and customers saying how worried they are about it."