Sri Lankan plane in emergency landing at Stansted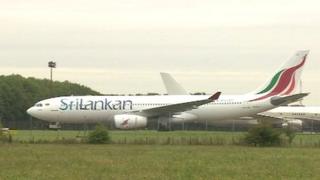 A Sri Lankan Airlines plane travelling from Colombo to Heathrow was forced to make an emergency landing at Stansted, police have said.
Two men were arrested on suspicion of endangering the A330 Airbus which was carrying 267 passengers and crew.
Essex Police boarded the aircraft shortly after 19:30 BST and arrested the pair.
The remaining passengers were taken to a reception centre before being transferred to Heathrow.
A spokesman for Stansted said: "A Sri Lankan Airlines Airbus A330 diverted into Stansted at approximately 19.30 this evening [Friday].
"The aircraft, which was flying from Colombo to Heathrow, landed safely with Essex Police in attendance.
"The airport is open and flights are arriving and departing as normal."
A spokesman for Essex Police said: "Officers boarded the aircraft and arrested two men on suspicion of endangering an aircraft.
"The passengers have been removed safely. Enquiries are ongoing."
The arrested men are British nationals and aged 49 and 57.
The spokesman added: "The 49-year-old is currently receiving medical treatment in hospital and the other is in custody at Harlow police station.
"They will be interviewed by detectives. The incident is being treated as a criminal investigation.
"All passengers left the aircraft safely and have travelled onwards to Heathrow by coach."