Devon and Cornwall special constable numbers to increase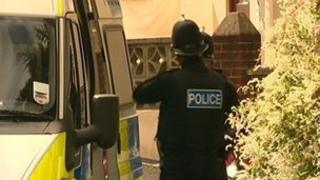 Devon and Cornwall Police is to increase special constable numbers by a third over the next four years, the force's commissioner says.
Tony Hogg said he wanted the number of volunteer officers increased from 600 to 800 by 2017 and would provide the money from contingency funds.
The force said it was introducing extra training courses for the new officers, who would have full arrest powers.
A recruitment freeze for full-time officers has also been lifted.
Over the past three years, the number of officers has fallen from 3,500 to 3,090 because of savings.
Previous successful full-time officer applicants had been told they could not join when the freeze was introduced.
They were being contacted again to see if they were still interested in joining, the BBC understands.
Mr Hogg previously said special constables played "an important role in forging strong links between the police and local people".