Northumberland garage celebrates a motoring centenary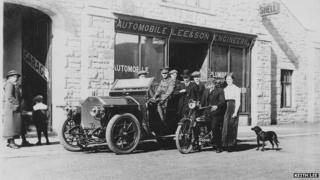 If ever you've sat in a classic car as it wends its way down country roads, you know just how thrilling the golden age of motoring must have been.
Today's modern cars just don't have the same sleek sense of design and class as their predecessors.
At the very start of my film this week we feature a gleaming, red 1935 Aston Martin Mark II coasting along the country roads of north Northumberland.
It doesn't get much better than that!
There may be a hint of rose tinted glasses here.
Of course I don't remember the early days, so it's probably misplaced sentimentality on my part.
Yet in making my film about the centenary of the old motor garage in Rothbury I have picked up a fascination for what it must have been like in the early days of the internal combustion engine.
The garage, which sits on the edge of the village, was huge for its time.
In 1913 there can't have been many cars on the remote rural roads of Northumberland.
But for any daring motorist who had ventured out from the cities it must have been a welcome sight if the petrol gauge was low.
As English Heritage investigator John Minnis told me, back then a garage was not just about fuel and repairs.
It would also serve as a village undercover car park.
Not just repairs and petrol
No one would leave a car out in the open for any length of time in those days.
The paintwork was not suited to prolonged exposure to the elements and those beautiful and expensive brass fittings, such as the lights and horn would be easy prey to an opportunist thief.
John was tasked with documenting the car's impact on our heritage, both in architectural terms and on the landscape.
The result was a fascinating book.
The Rothbury garage is featured in Carscapes but so are lots of other car parks, showrooms, service stations, road signs, ring roads and motorist cafes.
It's only when you look really carefully that you realise just what a wonderful motoring heritage we still have all around us.
Some of it is just clinging on in there, others have fallen in to rack and ruin.
Garages rarely survived long enough to be listed. As a showroom they always wanted to appear up-to-the-minute and would often be remodelled within a decade or two.
Motoring heritage all around
That's what makes the Rothbury garage so special. It has not only survived 100 years, but in all that time it has always been used for its original purpose.
A huge thank you has to go to the four families who have owned it over the last century.
In Newcastle, you'll find Britain's first multi-storey car park which dates back to 1897.
Coopers Auction Mart was saved from dereliction and now houses offices, but the original architecture, ramps and viewing circle are still there to see.
In Middlesbrough you'd easily walk past a quaint looking chemists without realising the amazing history of the old Park Garage. It was home to the Lewis Hamilton of the 1930's, Freddie "Flying" Dixon.
Before researching this film I'm ashamed to say I'd never heard of him or his universal fame.
In fact by the time I came to putting it all together I had so much material to choose from my boss thinks there might be a sequel in it.
If so, I can't wait to get the green light.
Find out more on Inside Out on Monday, 23 September at 19:30 BST on BBC One and nationwide for seven days thereafter on the iPlayer.