A14 toll: Labour to reconsider Cambridgeshire charges if elected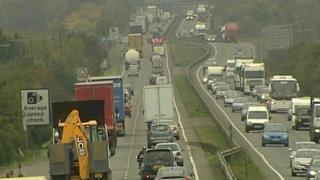 Labour will reconsider plans to toll the A14 in Cambridgeshire if it wins the next general election, according to the party's shadow transport secretary.
Maria Eagle said she was "not convinced" by the government's toll road plans, but warned "the M6 toll road has never made money".
The Highways Agency is proposing to build a new £1.5bn stretch of tolled road between Cambridge and Huntingdon.
Previous Labour plans to widen the road were axed by the coalition in 2010.
Speaking at the Labour party conference in Brighton, Ms Eagle said: "I think the evidence of the M6 toll road is people avoided it.
"Everybody just stayed on the old M6, and they run off on to other roads, many of which aren't designed for heavy traffic - so you get more congestion."
She added: "The M6 toll road has never made money.
"I'm not convinced by [the government's] proposals and I'm perfectly willing to have a proper look at the best way forward for the A14 once we get to the election."
The dual carriageway is a major freight route from the port of Felixstowe in Suffolk to the M1 and M6 at Catthorpe, on the Northamptonshire-Leicestershire border.
The government announced its plans to upgrade the Cambridgeshire section of the road with a toll in June.
About 20% of the cost of the improvements - £300m - is expected to be raised by tolling a 12-mile (19km) stretch.
The Highways Agency, which is is currently consulting on its plans, proposes cars pay up to £1.50 with lorries double that.
South Cambridgeshire Conservative MP Andrew Lansley said he was "confident" hauliers would pay if the toll was kept low.
The deputy prime minister Nick Clegg said taxpayers and road users need to "share the burden a little".
However, members of Suffolk Chamber of Commerce have described it as a "tax upon business" while the Road Haulage Association has said it could set a "very worrying precedent".
The government said it plans to bring building work on the road forward two years to 2016.
Ms Eagle said: "The thing is [the government] has allocated money for improvements to roads and new road building, so I think we need to do this in the context of the entire programme that they're proposing and not just deal with roads one at a time.
"I don't think they're going to have got very far with it by the time we get to the election, so it'll give us an opportunity to have a closer look at the right way forward."