Yorkshire and Lincolnshire Search and Rescue's equipment stolen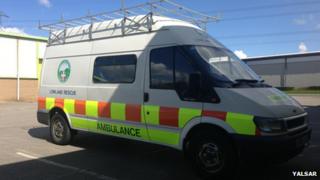 A search and rescue team has been put out of action after thousands of pounds of life-saving equipment was stolen.
Almost all of the Yorkshire and Lincolnshire Search and Rescue's (YALSAR) equipment was stolen and their van damaged in a break-in on Monday.
About £12,000 worth of gear was taken leaving the volunteers helpless in covering one the largest search and rescue areas in England.
They have already been forced to turn down one call for help.
The thieves tried to steal the van, kept at the Doncaster TA centre, but crashed it into the garage wall, damaging the vehicle.
They gave up taking the transit van but cleared out all the equipment instead.
Brett Gutteridge, chairman of the group, said: "It is devastating for us, it's set us back four or five years.
"We did an audit and it's just short of £12,000 worth of equipment. All the radios, first aid kits, defibrillator, we've got no oxygen, entonox (pain relief) and all our water rescue gear has gone.
"It is life saving equipment that's gone. We're not heartless, we will try to go out if we can, but it's next to impossible at the moment."
The team, a lowland search and rescue group, helps to look for missing people across the south of Yorkshire and Lincolnshire.
But it also helps the emergency services reach people in the snow or during floods - a task now made impossible thanks to the thieves.
The charity is now in talks with its insurers but believes the cover will not be sufficient and they will be left out of pocket.
Mr Gutteridge said it was a double blow as they had just been given a new van by South Yorkshire Police which they were about to kit out to keep in Hull and improve response times in the Humber area.