Thames Estuary airport plea to London's mayor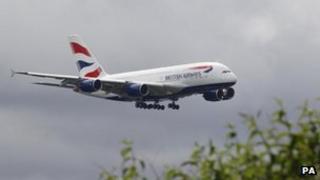 Medway Council has urged the Mayor of London to visit north Kent and explain why he wants to build an airport there.
It comes after Boris Johnson's aviation advisor visited Maidstone to talk to the Kent Economic Board about the idea of an airport in the Thames Estuary.
The council said the mayor had been invited to meet residents and councillors but had refused.
Mr Johnson's spokesman said it was very likely he would visit the area if the government took his plans forward.
Leader Rodney Chambers said Mr Johnson's airport plan was "the worst possible option".
'Political cowardice'
The Conservative councillor said the "needless pie in the sky" airport plan would "devastate the Kent and Medway countryside and turn it into a concrete jungle".
"Instead, the country needs to start with using spare capacity available at the five airports already serving London and promote airports close by such as Manston, Lydd and Southend.
"Even the mayor himself is now seriously talking about Stansted expansion and that makes absolute sense and is backed by Essex who say that it could double its passenger numbers if allowed to expand within the permissions it already has," Mr Chambers said.
Earlier this week, former Labour trade minister Lord Digby Jones accused the government of "political cowardice" for delaying a decision on airport expansion in the South East until after the next general election.
'Boris Island'
He has written to Sir Howard Davies, who is leading the commission on expansion, saying his recommendations should be acted upon within a year, rather than in the summer of 2015.
"It's ducking the issue," Lord Jones said.
"If they go past 2015 of course it doesn't become an election issue. People will vote not because of this issue, and that's political cowardice."
Mr Johnson's three proposals to the commission include a four-runway hub on an artificial island in the Thames Estuary, previously dubbed Boris Island.
He has also proposed a hub on the Isle of Grain in Kent or expanding Stansted airport.
Heathrow has proposed three options for a new runway in west London and Surrey, while Gatwick wants a second runway to be positioned south of the existing airport in West Sussex.
A spokesman for Mr Johnson said: "A new hub airport to the east of London would generate millions of pounds in economic benefits, create hundreds of thousands of new jobs and would be supported by world class public transport links, all of which would be of direct benefit to London, Kent and Essex.
"The mayor is making every effort to keep local people informed of his plans.
"The mayor is confident the government will see the wisdom in the detailed proposals he has submitted to them and it is very likely he will visit the area if they are taken forward."