Carol Weatherley killing: Report critical of NHS mental health care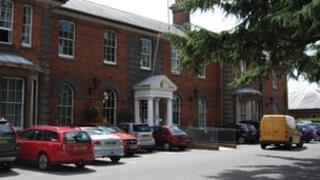 A mental health team failed to fully assess the risks posed by a Norfolk man who killed his mother, a report says.
Darren Weatherley, 35, stabbed 54-year-old Carole Weatherley to death at her home near Harleston in 2010.
The independent report said the team should not have discharged Mr Weatherley, who had talked about killing his family before.
The NHS trust which now runs mental health services said it was acting on the recommendations of the report.
Mr Weatherley pleaded guilty to manslaughter with diminished responsibility in 2010 and was sectioned under the Mental Health Act.
The new report, by Verita, said the Suffolk Mental Health Partnership (SMHP) diagnosed him as a schizophrenic with "delusional and suicidal thoughts" at St Clement's Hospital in Ipswich in 1998.
'Clerical error'
His family, who lived at Needham, said he had been walking around the house with a bread knife claiming people were coming to kill them. He had made three previous attempts at suicide.
He was put on a community care programme with included a course of anti-psychotic drugs, a care worker and regular visits to hospital.
The report said his family raised concerns in 2009 that he had had further thoughts about killing his parents.
He was discharged from the care of his care co-ordinator in July 2009, but follow-up hospital appointments were not kept due to a "clerical error", the report said.
He then killed his mother on 15 March 2010.
The report said he should not have been discharged in 2009 and should have remained under the supervision of a community mental health team.
'Major changes'
The inquiry found "a team struggling with operational changes, staff sickness, a pressure to keep patients moving through the system and limited resources given the large geographical area it was expected to cover".
The report recommended the Norfolk & Suffolk NHS Foundation Trust, which replaced the SMHP in 2012, improved training and reviewed the level of clinical supervision provided to community mental health team professionals.
Dr Hadrian Ball, medical director of the trust, said: "The report rightly points out a number of failings and also acknowledges major changes have been made in the way mental health services are run in the region.
"We have improved the way patients are risk assessed and discharged and have trained 120 clinical supervisors.
"Despite the many changes already made, we will study this report closely to ensure everything possible is done to learn from this tragedy."