David Cameron 'not looking for pacts'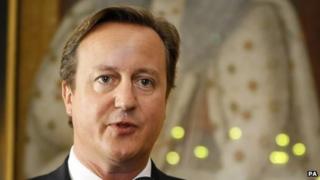 As David Cameron prepares for the Conservative Party conference in Manchester, his big concern is not about the official opposition Labour but rather, what do you do about a problem like UKIP?
In the South East the Tories have seen more support leach away to the UK Independence Party (UKIP) than they have to Labour.
At the local elections in May UKIP had a very good night. They now have 17 seats on Kent County Council, making them the official opposition, and in Thanet they won seven out of the eight seats.
David Cameron's strategy until now has been to ignore them - if you don't mention them maybe they'll go away. In this case that doesn't seem to have worked.
So, when I sat down to interview him ahead of the conference I asked him whether he should be thinking more - if you can't beat them, join them?
'Clear choice'
Should he try to bring the party's leader, Nigel Farage, into the fold and draw up a pact with UKIP ahead of the 2015 election? It's been mooted before.
Under the terms of any agreement UKIP would obviously avoid standing in any marginal seats where they risked splitting the Conservative vote and letting Labour in by the back door.
Mr Cameron said: "I'm not looking for pacts. I think we need to give people a clear choice at the next election.
"The British economy has turned a corner - we're on the right track. We're seeing more jobs, more new businesses, we're beginning to see things moving again.
"So, do you want to stick with us on the right track - delivering an economy for hardworking people - or do you want to put all of that at risk with Ed Miliband and his crazy plans to tax business out of existence?
"That'll be the choice and I've obviously got to do more to win people over who've drifted over to other parties."
Did you see what he did there? He was asked about a pact with UKIP but managed to answer it without mentioning UKIP or Nigel Farage - reaffirming that the next election will be a clear choice between him and Ed MIliband.
'In/out referendum'
So, I tried again.
This time he did say the word - UKIP - but said the Tories were looking at issues important to UKIP voters.
"Look at the Europe issue, which is important to some UKIP voters, I've promised if re-elected we will have a re-negotiation then and then an in/out referendum. It's the only way people will get that proper choice," he said.
"On issues like housing - we've sorted out the Help to Buy scheme so that young people who've got good jobs, who can afford the mortgage payments, but can't get a mortgage without a rich mum and dad can get on the housing ladder.
"We're addressing all of these issues."
He acknowledged it's been a tough three years and the Coalition has had to make difficult decisions, but said he hoped people were beginning to see that those decisions were starting to pay off.
But he believes the country's coming through it.
He said: "I think as we make that argument it will be very simple - do you want to stay on that track - continue to sort things out - just give me the tools and I'll finish the job - or do you want to put it all at risk?
"That will be the argument at the next election."
He hopes that will be the argument because in places like Kent, UKIP appear to pose a bigger threat to Mr Cameron winning a majority at the next election than Labour leader Mr Miliband.
The Conservatives will hold their conference in Manchester. UKIP gathered in Westminster, Brighton hosted the Labour Party conference, the Liberal Democrats held theirs in Glasgow, while the Green Party went to Brighton.