Salmonella outbreak leads to whelks recall by King's Lynn firm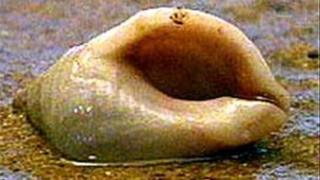 A Norfolk shellfish firm has been forced to recall its products after 18 cases of food poisoning were recorded.
The Food Standards Agency (FSA) and Public Health England said they were investigating an outbreak of salmonella.
Lynn Shellfish of King's Lynn has issued a recall of all batches of its frozen and chilled whelks.
The FSA said the whelks were mainly sold in East Anglia.
Public Health England said the food poisoning cases resulted from a strain of the disease called salmonella Gold-coast.
The first case dates from July.
The authorities said a small number of cases would be expected anyway, and it had not treated it as an outbreak until now.
The FSA said the whelks had been collected around the south-east and east coasts of England.
The products were all labelled Lynn Shellfish Ltd and the serial number was UK K1010 EC.
None of the affected product remains on sale, but the agency advised that if people had bought the whelks from independent shops, market stalls or mobile seafood vans, then they should throw them away.
A statement from the seafood company said: "Lynn Shellfish are working with the environmental health authorities.
"Until the results and facts are available we are unable to comment."