A14 toll: New Anglia Local Enterprise Partnership opposes road-users' fee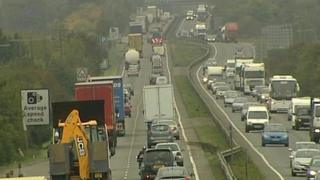 A business group representing Norfolk and Suffolk says it is opposed to a toll for vehicles on the A14.
The Highways Agency is proposing to build a new section near Huntingdon.
The government has said tolls should be considered for it because "people who are going to benefit... should pay something towards it".
The New Anglia Local Enterprise Partnership (LEP) said it would be a "tax on growth" that would cost businesses millions of pounds.
The new 12-mile (19km) section of the trunk road would be built in Cambridgeshire with the aim of easing congestion on the existing route between Cambridge and the A1.
The proposal is to charge £1-£1.50 for cars and £2-£3 for lorries on the new stretch to help fund the £1.5bn upgrade.
Last week, Prime Minister David Cameron said: "I think there is a strong case for saying when you're putting in new capacity, when you're dealing with congestion, that some of the people who are going to benefit from that should pay something towards it.
"Everybody knows that we're living in circumstances where the government can't just create money."
The LEP said it backed the creation of the road, but a toll would hit traffic using the ports such as Felixstowe and Great Yarmouth.
Dr Andy Wood, chairman of the New Anglia LEP, said: "The ports and logistics sector employs almost 24,000 people in Suffolk and Norfolk and is worth £5.4bn to our local economy.
"It is vital we do everything to support this key sector and not place it at a competitive disadvantage to other parts of the country.
"Companies in this region have shown strength, resilience and leadership in the face of the economic downturn and the toll could jeopardise their future."
The LEP said the Highways Agency needed to hold consultation events in Norfolk and Suffolk as well as planned ones in Cambridgeshire.
The Highways Agency consultation will continue in 2014.