Teachers strike: 'Only option' or 'double standards'?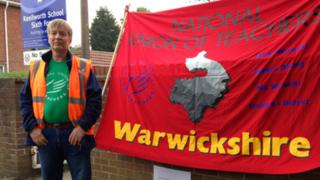 There has been a mixed reaction to teaching strikes taking place across England in a row about pay and working conditions. Here are some comments from teachers and parents:
Ian Maynard Smith in Leicester
"No teacher wants to strike but our views are not being listened to. [Education Secretary] Mr Gove's department refuses to negotiate properly about the issues being raised. Children's education is being severely put at risk by the changes being forced through by Government policies."
Lee Edmondson in Dereham, Norfolk
"I received a letter yesterday stating the school will be closed today due to strike action. This is unacceptable as they have given no formal notice that this was going to happen. This has caused work problems.
"If my child takes a day off, the government is quick to attack parents for not sending the child to school. What a joke. The teachers get more holidays than 90% of any work force in the UK."
Chris Gabbett in Leamington Spa
"I am principal of a medium-sized secondary in the Midlands. I have closed my school due to the number of colleagues striking: I simply couldn't run classes and ensure the site was safe.
"I am honoured to lead professional, dedicated, caring, qualified teachers. None of those striking have taken the decision lightly. It is very sad that people of this calibre feel that the only option is to withdraw labour and lose a day's salary because they feel the Secretary of State is aloof to their concerns."
Daniel Bekett in Godmanchester, Cambridgeshire
"We are affected today as the school strikes. The frustrating thing is that we have just been reminded by the school that our child isn't allowed any time off for family holidays or any other reason as every day is crucial in their learning. Obviously not today. Double standards."
Rachel in Huddersfield
"We are striking about workload. How many jobs start at 08:00 and finish at 17:00 and then get a food break and then continue for a further four to five hours and weekends?
"The common view of an easy life and loads of free time is so wrong. We are often in school during holidays or working at home, so annual leave becomes similar to rest of population. The long hours and lack of respect from pupils and quite often parents is not acceptable and a reason why we are striking."
Lauren Ellis in Kettering, Northamptonshire
"I am a teacher and I chose not to strike. I oppose changes to teacher's pay and work conditions and it completely mystifies me why [the Education Secretary] would want to make an already struggling profession even less appealing.
"But I cannot, in good conscience, undermine the education of my students by striking. How can I punish those who have no control over how this all plays out?
"Teachers need to start thinking creatively and find ways of protest that don't undermine the very principles we are trying to protect."
Mick in Wem, Shropshire
"[Teachers] have amazing holidays, incredible terms and conditions and professional status in our society. If I were able to have the same as a taxpayer and business owner, I'd be very happy indeed."
Sam from Sutton Coldfield
"They want to remove planning, preparation and assessment time and remove classroom support staff. We cannot provide the highest quality education if the Government removes these things. I'm a damn good teacher but without time to prepare and assess, how can I be as effective?"
Sara Narayan in Knaresborough, North Yorkshire
"I'm a supply teacher. The amount of work available has declined steeply in the last few years. I've had only a few half-days of teaching work this term.
"This morning, my agency rang me to offer work at a local school. I turned it down to show solidarity with the unions, but I have lost a day's wage as a result.
"Supply teachers work under zero-hours type conditions, as schools often employ teaching assistants to cover for absent teachers, and agencies often beat the rates down to demeaning levels because teachers are desperate for work."