Students to climb Kinder Scout in project inspired by Red Arrow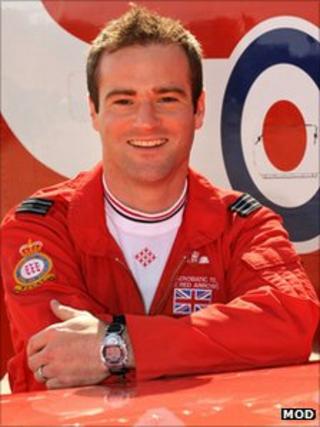 Pupils from four schools are to take part in an expedition to climb Kinder Scout in the Peak District to raise money for the Jon Egging Trust.
Mr Egging, 33, died when his Red Arrows jet crashed after a display at the Bournemouth Air Festival in 2011.
Four teams of up to six pupils each from schools in Dorset, Lincolnshire and Norfolk will navigate separate routes up to the plateau on 15 October.
The 13 to 15-year-olds will be helped by a qualified mountain leader.
The 4forRed4 event is part of the trust's Blue Skies programme, set up to help disadvantaged young people achieve their full potential.
Mr Egging, from Rutland, was the pilot of the Red Arrow Hawk T1 plane known as Red 4 - reflected in the title of the event.
His widow Emma is visiting Glenmore and Winton School in Bournemouth later to meet its chosen team, all picked for reasons of self-esteem and motivation.
Two teams from Priory Witham Academy in Lincoln and one from Downham Market Academy in Downham Market will also take part in the event to climb to the highest point in the Peak District.
'Immensely proud'
Battle of Britain Memorial Flight pilots, members of Empire Test Pilot School, Tornado IX Squadron, and the RAF Typhoon Squadron will also help them.
Following his death, the Jon Egging Trust was set up by his widow, Emma, his mother Dawn, childhood friend James Godley and Red Arrows' pilot Ben Plank.
Mrs Egging said: "For me 4forRed4 brings together everything that the Jon Egging Trust stands for; inspiration, teamwork, leadership and the ability to be the best you can be.
"The event is going to be a real personal challenge for the students who have all been through the Trust's Blue Skies leadership programme.
"Most of them have never seen a mountain before close up, let alone climbed up one.
"The students have gained so much from their experiences with the Jon Egging Trust.
"Before taking part they had confidence issues and all were underachieving in school because of challenges they face in every day life.
"They have all come such a long way since the beginning of the programme and I am immensely proud of them.
"This event is a way for them to showcase everything they have learnt and they will be fundraising themselves to help us expand the Blue Skies programme to other benefit other young people just like them.
"What these young have achieved since their time on the programme is amazing and I am determined to ensure that as many other young people as possible can benefit from the programme like they have."