Norfolk & Suffolk Trust lost £3m mainly to redundancy costs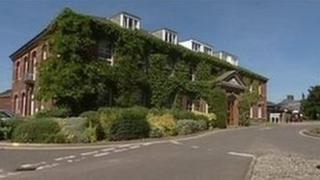 The merger of mental health services in Norfolk and Suffolk has cost the NHS more than £3m, mainly in the form of redundancy payments as jobs were cut.
The Norfolk and Suffolk NHS Trust also revealed at its annual general meeting that £40m must be still cut from its budget, putting 400 jobs at risk.
Interim chief executive Andrew Hopkins said: "We had to deal with increasing demand and falling income."
Doctors said they feared frontline services would suffer.
Dr Rob Harwood, from the British Medical Association (BMA) eastern division, said earlier this year he was concerned about the trust losing up to a third of its most senior doctors and up to 40% of other permanent doctors.
"We worry there will not be enough frontline staff to continue to provide the current range of high quality, safe services," he said.
'Very difficult times'
However, Mr Hopkins said: "For two years we have been planning and developing new models of care."
Clinical staff, including psychiatrists and psychologists, had worked together to maintain standards of quality with reduced workforce.
"The aim was to deal with the same number of people as in the past while increasing the quality of the services provided," said Mr Hopkins.
"The board did not think that a fall in quality was inevitable during the changes we had to make.
"But we are continuously monitoring the changes in the way teams operate to ensure we deliver as good a service as we can.
"It was never going to be easy and staff have gone through very difficult times going through consultation about job losses.
"Users will also have concerns about the kind of service they would get in the future and we need to be aware of this as changes are implemented."
The trust still faces a 20% reduction in its current budget of about £220m over the next four years and is consulting on a package of cuts.