Seasonal Canine Illness study focuses on harvest mites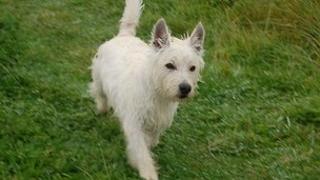 A mystery illness which has killed dogs in Nottinghamshire and Norfolk might have been caused by mites, vets have said.
Seasonal Canine Illness (SCI) is associated with animals which have been walked in wooded areas or parkland in the autumn months.
Cases are characterised by lethargy, vomiting and rapid unconsciousness.
The Animal Health Trust (AHT) has asked owners to treat dogs with a Fipronil-based insecticidal spray before walks.
First reported in 2010, SCI still has no proven cause or cure.
More than 300 cases have been reported to the AHT study with 16 deaths. However vets admit many more cases are likely to have gone unrecorded.
Researchers at AHT in Kentford, Suffolk said they now believed previous possible sources, such as fungi, algae or agricultural chemicals, were unlikely.
Attention was now focused on harvest mites, which many ill dogs had been bitten by.
The charity's Head of Disease Surveillance and Epidemiology, Dr Richard Newton, said: "It could be coincidence or it could be part of the cause.
"We are coming at it from the other end to see if we can prevent the harvest mites causing a problem and see if that prevents SCI."
Dr Newton said owners should spray the underside of the dog before walks. Treatments which applied drops to a single area were not thought to be effective.
Despite there being no known cure, Janice Dixon from McPherson and Partners vets at Rainworth, Nottinghamshire, said progress had been made.
"In 2010 when it was first reported on, 20% of the cases recorded died. Last year we had less than 2% died.
"Because the awareness is out there, people are bringing them in earlier and it makes our job so much easier to treat them," she said.
AHT is studying the illness at five sites; Sandringham Estate and Thetford Forest in Norfolk, Sherwood Forest and Clumber Park in Nottinghamshire and Rendlesham Forest in Suffolk.