Ken Clarke: I will stand at next General Election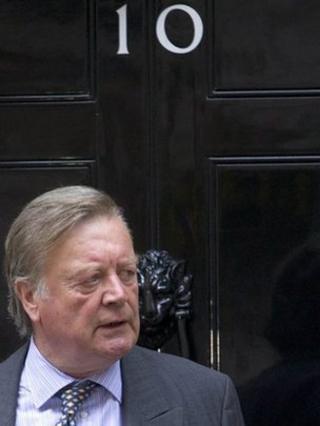 Ken Clarke used a cricket metaphor when I asked him about any plans to retire from Westminster politics.
He remains a highly experienced minister in David Cameron's cabinet and he's just announced he'll be defending his Rushcliffe seat at the next election. He'll be in his mid-70s by then.
So what keeps him going?
"David realises I'm not a candidate wanting to oust him from his job.
"And I'm able to give him rather candid advice because I'm not trying - at the moment - to catch the selector's eye!" Mr Clarke told me.
Ken Clarke returned to government when David Cameron entered Downing Street after the 2010 general election.
He was appointed Justice Secretary and Lord Chancellor.
'Thrusting and ambitious'
He remains at the cabinet table as Minister without Portfolio, a role that Italian football commentators would describe as a "libero"; a versatile player who guards the back and creates movement when needed, in attack.
"I get on very well with David," he added.
"But sooner or later, I'm sure he'll ask me to retire.
"He's had me in the government for three and a half years, which is much longer than I expected."
With the prospect of ministerial changes, is Ken Clarke expecting to stay in government?
"He may have me there for the rest of this parliament. But prime ministers need to accommodate young thrusting, ambitious men, as I used to be many decades ago.
"Sometimes, as prime minister, you have to cough gently and ask your colleagues to retire. I hope he'll keep me for as long as I can contribute."
Ken Clarke was first elected Rushcliffe MP in 1970 and during the Thatcher/Major years, he held most of the senior cabinet roles.
If he's re-elected at the next general election, he'll be one of the oldest MPs in the chamber. If David Cameron's Conservatives also win that election, no doubt he'll also want to play a key pro-Europe role in any EU referendum campaign on UK membership.
"I'll be 74 and in the mid-term of my career.
"I'm surprised to find myself still doing it. I'm a bit of a political anorak and I find politics are as fascinating as I ever did, " he said.
There had been some hints during the summer that he planned to stand down. Up until then, he maintained to his Rushcliffe party and the media that he would make no official announcement until six months before the election. So why now?
"There are lots of ambitious people who would like to be the next MP for Rushcliffe or the candidate for Rushcliffe, and ask about my wellbeing and health. And there's been speculation in the press. It's bound to at my age.
"My wife Gillian is prepared for me to do it again. She probably thinks that having me hanging around the house complaining about the politics instead of participating wouldn't be a great improvement."
Back to the cricketing metaphor and if Ken Clarke slips off David Cameron's batting order, expect the MP for Rushcliffe to be offering the prime minister advice from the political pavilion.