Norwich City boss Chris Hughton angry over 'racist' post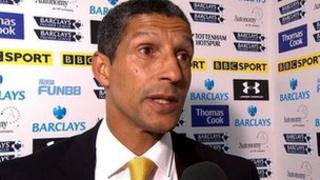 Norwich City manager Chris Hughton has said he is angry and saddened by alleged racist posts on Facebook.
The club said the posts appeared on a Facebook page called "**OFFICIAL**!!! Ipswich - Norwich fans banter/insult/ joke page".
The posts were reported to police as a hate crime and have been removed.
Football's 'Kick It Out' campaign said it would pursue legal action over the comment, posted after the Canaries victory over Stoke last weekend.
Hughton said: "I am very saddened and disappointed.
"Unfortunately we are in an age where, through social media, it is accessible for anybody to air their views.
"I was brought up in an era where the percentages (of racism) were an awful lot higher and there are a lot of fine organisations that have worked incredibly hard - the 'Kick it Out' campaign, 'Show Racism the Red Card', the FA, the PFA - over the years to make sure this type of abuse doesn't exist.
"Does it make you angry? Of course it does, but it is very difficult to stamp out completely.
"Thankfully there are mechanisms in place that can pick out the perpetrators and the companies have to make sure that becomes a priority.
"There have to be guidelines so people can be made accountable."
Norfolk Police said the posts are being investigated.