Giant stone Bosham Head was Roman emperor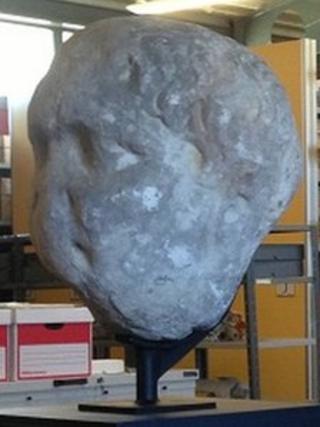 A giant stone head unearthed in West Sussex more than two centuries ago has been identified as a statue of a Roman emperor dating back to AD 122.
Bournemouth University archaeologists used 3D scanners to examine the 26-stone (170kg) head, found in Bosham.
Dr Miles Russell and Harry Manley believe the 'Bosham Head', part of The Novium museum collection in Chichester, was a statue of Roman Emperor Trajan.
It is the largest Roman statue found in Britain, the experts said.
The head, which is twice life-size, was discovered in the garden of a vicarage in about 1800.
The 3D scanner enabled the experts to pick out facial features and a distinctive hairstyle, which led them to conclude it was Emperor Trajan.
Dr Russell, a senior lecturer in prehistoric and Roman archaeology, believes the statue, made of Italian marble, was set up by Trajan's successor, Hadrian, on a visit to Britain in AD 121-122 and would have greeted visitors as they entered Chichester Harbour.
A similar statue of Emperor Trajan was also put up by Hadrian at Ostia Harbour, in Rome.
Dr Russell said: "The statue is one of the most important finds from Roman Britain and would certainly have been the most impressive.
"The problem is because the face has been so battered by weathering - possibly because it was in the sea at one point - people have felt for the last 200 years that there's not enough left of the face to be that precise on its identification.
"It is a shame that it has been ignored and overlooked for so long, but now that laser scanning has helped resolve its identity, hopefully it will now take pride of place."