Reshuffles fail to bring North East MPs to the fore
Richard Moss
Political editor, North East & Cumbria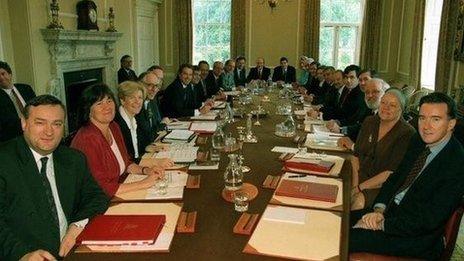 There was a time when some said the UK government was run by a "Geordie mafia".
And Tony Blair's cabinets were certainly dominated by politicians based in the North East constituencies close to his Sedgefield seat.
There was Peter Mandelson, Alan Milburn, Jack Cunningham, Stephen Byers, Nick Brown, Mo Mowlam, Hilary Armstrong and latterly David Miliband.
Now though, not a single government minister represents a North East constituency.
The reshuffle of the government hasn't changed that.
William Hague comes closest as his Richmond seat constituency is next to Sedgefield over the North Yorkshire border.
Scarborough and Whitby MP Robert Goodwill was also promoted to become a transport minister in the shake-up, but otherwise northerners are thin on the ground.
Perhaps that's not surprising, given that the North East isn't a power base for either the Conservatives or the Liberal Democrats.
But then the shadow cabinet is also devoid of any North East MPs.
There are plenty - 13 if you include Cumbria's Jamie Reed - lurking in the junior ranks, but none of them have yet broken into the top team.
Part of this may be a result of the demise of that New Labour North East generation.
The region saw a big turnover of MPs in 2010 as many of the more established names chose to stand down.
It may then need more time for the next generation of North East Labour to make it into the shadow cabinet.
Newcastle Central's Chi Onwurah has already been tipped by website Labour List as shadow cabinet material.
Her neighbour, Catherine McKinnell (Newcastle North) also occupies a key role in the Labour treasury team.
Others are clearly on the rise too. Sunderland Central's Julie Elliott was brought into the shadow energy and climate change line-up in the reshuffle, while Houghton and Sunderland South's Bridget Phillipson is taking her first step on the ladder by being appointed as a whip.
Then there are those who are now well-established in the shadow teams - Helen Goodman (Bishop Auckland) in culture, Jamie Reed (Copeland) in health, Kevan Jones (Durham North) in defence, Iain Wright (Hartlepool) in business, Roberta Blackman-Woods (City of Durham) in communities and local government and Sharon Hodgson (Washington and Sunderland West), formerly in education, now in women and equalities.
But the question is does it matter that the North East doesn't have MPs on the front benches?
Many of the current generation are making an impact in other ways.
Stockton South MP Conservative James Wharton's push for a European referendum has got him plenty of headlines, and if his bill eventually does trigger a vote, he might have played a part in one of the biggest political moments of our times.
Hexham's Guy Opperman has also had more freedom to say what he thinks because so far he has not become a minister.
He's spoken out against regional pay, in favour of the living wage and campaigned for fuel duty cuts. He's written a radical book on prison reform. All areas he might have had to steer clear of with a government role.
On the opposition benches, Labour's Grahame Morris has led recent debate in parliament on the gun laws following the shooting of three of his Easington constituents.
Others on both sides have also played a part in the parliamentary committees that are increasingly influential.
Redcar Lib Dem Ian Swales has been helping to question BBC managers on executive severance pay on the public accounts committee.
Labour's Alex Cunningham (Stockton North), Pat Glass (Durham North West), and Ian Mearns (Gateshead) have had a chance to hold Michael Gove to account on the education committee.
And then all of the area's MPs have more time to dedicate to constituency matters than the likes of Blair and Miliband probably did.
Conservatives in the North East have also pointed to the fact that the north-south divide remained stubbornly in place despite a 10-year period of government led by a PM from the North East.
But others do still believe the region needs a place at the top table.
Newcastle East's Nick Brown - the last remaining member of that North East 'mafia' in parliament - has campaigned for the region to have its own minister.
He believes it is essential that someone is championing the region's cause at the heart of government.
The government believes that's unnecessary, but there's no question it is now keen to promote northern MPs.
The problem is, until the Conservatives and Lib Dems win more seats in the north, there are still too few candidates to choose from.
Related Internet Links
The BBC is not responsible for the content of external sites.