Hundreds respond to A14 toll road consultation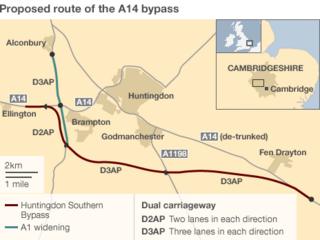 A consultation on plans for the UK's first toll road in 10 years has attracted more than 800 responses, the Highways Agency said.
The agency is proposing to charge motorists on a new stretch of A14 through Cambridgeshire which links the Port of Felixstowe, in Suffolk, with the Midlands via Northamptonshire.
The five-week consultation on the £1.5bn road plan closes on Sunday.
The plans have been met with fierce opposition across East Anglia.
The New Anglia Local Enterprise Partnership (LEP), which represents businesses in Norfolk and Suffolk, said it would be a "tax on growth" that would cost businesses millions of pounds
The plan has also proved unpopular with hauliers who say it leaves them with little alternative but to pay the toll.
'Toll-tax'
Therese Coffey, Conservative MP for Suffolk Coastal, has secured a backbench debate on the plans in Westminster on Wednesday.
She said: "I've expressed my concern from the start about the prospect of singling out the A14 to be the only road to be tolled under this vast array of improvement being made around the country.
"I genuinely hope the government listens to the views from households and businesses who are really concerned this is being a toll-tax on Norfolk, Suffolk and East Anglia in general."
If the plans go ahead, a new stretch of the A14 will be built between Ellington and Swavesey and the A1 widened between Brampton and Alconbury.
Lorries could be charged £3 and cars between £1 and £1.50 for using the 12-mile stretch of toll road, which would be south of Huntingdon.
A Highways Agency spokesperson said: "This consultation is the first, not the last, opportunity for people to have their say about the proposals to improve the A14 in Cambridgeshire."