Banjo bobby adapts George Formby tune in fight against crime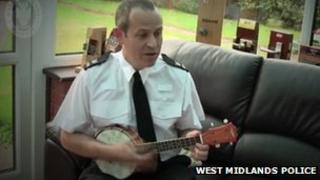 A ukulele-strumming policeman is using the music of George Formby in the fight against crime.
Sgt Giles Dean has reworked the classic Formby tune When I'm Cleaning Windows to become When I'm Burgling Houses.
The self-taught strummer, who is based in Smethwick in the West Midlands, said it was "incredible" how many people still fail to heed basic advice.
The plucky policeman said if his Formby YouTube tribute helped foil just one burglary it would have been worth it.
Perhaps the lyrical highlight of his bold re-imagining of the legendary performer's most famous song comes in the opening salvo.
In the the first burst of his version, the 44-year-old crime fighter croons: "Now I go burglin' houses to earn a dishonest bob, with all the help you give me it's a very easy job."
'Strike a chord'
In the 1936 classic - formally titled The Window Cleaner - Formby himself sings: "Now I go window cleaning to earn an honest bob, for a nosey parker it's an interesting job."
Sgt Dean, who has been plucking at his banjo-ukulele for about five years, said too many people were still leaving their cars unlocked with valuables on display or windows open in their houses.
The policeman, who has served with the West Midlands force for 22 years and oversees neighbourhood policing in Smethwick, said: "I've been playing the ukulele for a few years now so thought putting these messages out in the form of lyrics in a fun song would strike a chord with residents and motorists.
"We've seen a significant drop in burglaries and car crime across Sandwell, and if this song jogs the mind of just one person to brush up their security, and prevents an offence, it will have been worth it."