Kent and Sussex theatres 'adapt' to cope with funding cuts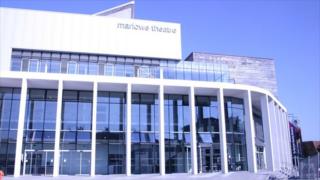 Theatres in the South East are having to adapt to try to cope with diminishing public subsidies.
Research by the BBC in the South East suggests that many cash-strapped councils have reduced contributions to theatres in the region.
And some predict it may only be a matter of time before theatres have to be wholly self-sufficient.
But while some councils are bucking that trend, some theatre bosses are relishing the potential independence.
Overall net spending on theatres among Kent councils has fallen from £3.7m in 2010/11 to an expected £2.7m in the current financial year, although by no means uniformly across the county.
Colin Carmichael, chief executive of Canterbury City Council, whose annual spending on the city's Marlowe Theatre, has fallen from almost £590,000 in 2011/12 to £150,000, suggested if theatres were run by charitable trusts, they could be eligible for funds not available to councils.
'Quality thresholds'
However, the Marlowe's manager, Mark Everett, said: "I don't think we'll ever go away from subsidy because I think the city council will always want us to do certain things as a regional and community theatre."
Medway Council, which has reduced its spending on the Brook and Central theatres from £571,000 in 2011/12 to £65,000 in 2013/14, says that is in part due to changing its arrangements so that promoters of larger events now sell their own tickets and guarantee a certain financial return rather than receive a percentage of the takings.
Other venues, such as The Stag arts centre in Sevenoaks, have already tightened their belts to prepare for minimal or zero-funding.
General manager Andrew Eyre said: "In the current national state of financial affairs, the grants are going to get smaller and the grants are going to go away.
"We've been planning for this for five years and we are already able to operate without that level of grant, and we only ever had £75,000 a year anyway."
Brian McAteer, director of Tunbridge Wells's Assembly Hall Theatre, admits he will need to ensure the quality threshold of productions remains high to generate sufficient income, but he said: "We are ready to take on the challenge."
And at the nearby Trinity Theatre and Arts Centre, artistic director John Martin acknowledges the risks but says self-funding is inevitable and he is not unduly concerned, providing his organisation is given sufficient notice.
'Beloved' theatre
Yet in Sussex, Bexhill councillors have agreed a continued level of funding towards the town's De La Warr Pavilion until 2021.
And the White Rock in Hastings will have its council funding increased by £12,000 to £579,000, while Brighton and Hove City Council offers arts groups a percentage subject to substantive funding from bodies like the Arts Council.
Another authority putting its weight behind its local theatre is Dartford Borough Council.
Its leader Jeremy Kite told BBC Radio Kent: "Council leaders can very rarely say with any confidence that they can guarantee a subsidy for anything but I can make an exception with the Orchard [Theatre] and say absolutely 100% 'yes'.
"It's one of those things so beloved by the town and loved by the council, I think everything else would have to go.
"We'd have to be selling furniture before we started to cut away at the Orchard's subsidy."
BBC Radio Kent is looking at the future of the county's theatres from 21 October and then available on the BBC iPlayer.