Katie Hopkins 'happy' to be Edenbridge bonfire guy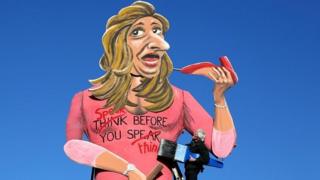 Former TV Apprentice contestant Katie Hopkins has said a bonfire society's choice of her as their latest celebrity guy "is British humour at its best".
Kent's Edenbridge Bonfire Society has previously burned effigies of Cherie Blair, Wayne Rooney and Saddam Hussein.
The society said Ms Hopkins, from Exeter, was picked because she "has come out with silly remarks" in the past year.
A 40ft (12m) high steel-framed model of Ms Hopkins will be burnt on Saturday.
The effigy, which features the phrase "Speak before you think" written on the front, will be stuffed with oil-soaked newspapers and packed with fireworks before organisers set it alight.
Society co-ordinator Charles Laver said it had been easy to choose Ms Hopkins, who was the subject of criticism earlier this year after linking children's names to their social status.
"We were looking for someone who was in the news and she was one of the people around at the moment.
"Of course, she has come out with silly remarks, so we thought why not?"
The society runs the bonfire celebrations to raise money for local charities.
Organisers said it had generated almost £50,000 in recent years.
'Laugh at myself'
Last year, the society's effigy was of drug-cheat cyclist Lance Armstrong wearing a Jim'll Fix It badge, in reference to disgraced broadcaster Jimmy Savile.
Ms Hopkins said she was not "as annoying as Cherie Blair and I don't think I can be as dastardly as Saddam Hussein, so I think we have to take it in the manner which it is intended".
"I rather like the idea of a 40 foot Katie Hopkins lurking somewhere in the Kentish countryside.
"I think if you took all the things in life personally, you could get very offended indeed and I am not one of those people - I can laugh at myself."
She added that she had said "things people don't like and this is a great way of getting a lot of people there to watch the bonfire celebrations and raise a lot of money for charity".