Mountsorrel girl, four, dies after being bitten by dog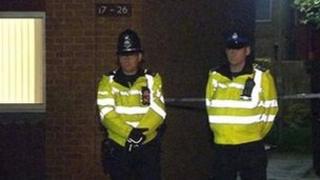 A four-year-old girl has died in hospital after being bitten by a dog.
Officers were called to a flat in Rowena Court in Mountsorrel, Leicestershire, at about 12:15 GMT to reports of a dog attack on a child.
Lexi Branson was taken to the Queen's Medical Centre in Nottingham where she later died.
The dog, believed to be a family pet, died shortly afterwards, but details of how it died have not been released by police.
In a statement, Leicestershire Police said they did not believe the dog "was of a breed listed under Section 1 of the Dangerous Dogs Act".
Inquiries are at an early stage and the force declined to give further details.
Neighbours' shock
Arthur Nash, a neighbour of the family on Rowena Court, said: "Everybody is in shock at the moment with her dying.
"When I saw an ambulance pull up I thought it was an old lady on the court who had had a heart attack and then the neighbour came up and said [the girl] had been killed by the dog."
Gloria Longmire , a secretary at Mountsorrel Methodist Church, who walks her dogs in nearby Cross Lane, added: "I would say we do have a strong community here and people will be absolutely horrified and it's dreadful that it's a family pet."
Police officers remain at the scene and the flat has been cordoned off.