Dressed to grill: From The Undertones to Lady Gaga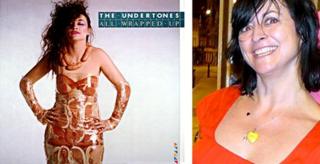 When Lady Gaga wore an infamous dress made of raw beef to the 2010 MTV Video Music Awards ceremony it hit international headlines as the world gasped at her daring outfit. But a similar fashion statement had already made music history 30 years before.
Cath Johnson was 23 and nearing the end of a four-year graphic design course at Middlesex Polytechnic when she agreed to pose in a hastily-assembled photoshoot wearing a dress made out of bacon wrapped in cling film to help a friend complete his degree.
Thirty years ago this month, Ms Johnson's image appeared on an album cover by post-punk band The Undertones - leading to a minor feminist backlash amid strongly-disputed claims that the picture associated women with "being meat".
When the shot was duplicated on billboards across central London, it was denounced as "sexist crap" by sections of the women's movement active during the early-1980s, Ms Johnson recalled.
'Wild things'
"I wasn't that bothered because I had done it and I was having the most hilarious time," she said.
"It was feminist politics in the '80s, and I think people were quite ambivalent about it. I was, as a female.
"It divided [women's opinions] as to how I should be. I chose a very noisy road. I was very loud and probably [upset] a lot of women, and that's how I found myself.
"I wanted to do wild things; I was up for anything. People can interpret it as they wish."
Ms Johnson, now 53 and working as an international academic co-ordinator for the University of the Arts London, sealed her moment of immortality one spring day in 1983 in a photographic studio at the former polytechnic's Cat Hill campus in Cockfosters, north London.
Her friend John Pretious organised the shoot as part of his BA in graphic design, buying a couple of carrier bags full of raw meat from Budgens in Crouch End and directing the session.
Ms Johnson said: "[John] rocked up with the bacon and the cling film. We very carefully constructed a couple of slabs of gammon to make the bra-part of the dress.
"We kept my modesty; I was wearing very small pink pants. My nails were fake. There was a myriad of gaffer tape.
"It was hilarious. We drank a bottle of Malibu and a bottle of sweet wine. I also had a black eye and a bruise on my arm [covered by] a bit of cosmetics.
"John had a cigarette in his mouth and I had false eyelashes. The fag just about set fire to my hair with so much hairspray in it.
"It was pure happiness. It was just very funny. We had people popping in and out to see how things were going… people having a look and having a laugh.
"It was shot only from the top. I went to meet [former Undertones singer] Feargal Sharkey and people thought I was tall, but I was very short; 5ft 1-and-a-half."
'Big fry-up'
After the photo session the assembled group of poor and hungry students cooked up the bacon - along with a "necklace" made of sausages - for their breakfast.
"We had a big fry-up with our friends and it was absolutely delicious," said Ms Johnson, who lives in Stoke Newington, north London with her jazz musician partner Kevin Davy.
"When I look back over 30 years I am so glad that these things happened. We were right in the moment. There was no agenda for it. It was, 'Let's do it'. I was wearing a bacon dress. It's hysterical."
Ms Johnson received a £50 payment from a record industry illustrator, and the image was used to mirror the LP title All Wrapped Up, a compilation of career-spanning tracks by The Undertones - famously one of BBC Radio 1 DJ John Peel's favourite groups - shortly after they had split up in 1983.
The sleeve bears the legend: Dressed To Grill.
It came more than a quarter of a century before Lady Gaga infamously wore a dress made of raw beef to the 2010 MTV Video Music Awards ceremony.
Her outfit was attacked by animal rights groups and named top fashion statement of the year by Time magazine.
Ms Johnson agreed to be interviewed after I and a friend, a fellow BBC journalist, met her by chance as she dined with a party of friends and academic colleagues in a restaurant in Kiev, Ukraine, early in 2012.
We began a conversation about our shared love of music - particularly of the post-punk era - and it soon dawned on us that the woman talking to us was an iconic part of that period.
"I'm very proud of that time in my life," said Ms Johnson.
"It was never done for anything other than for a friend and a laugh.
"It was in the spirit of the idea, and carrying out something for a very good friend."