Recruiting the right social workers to protect vulnerable children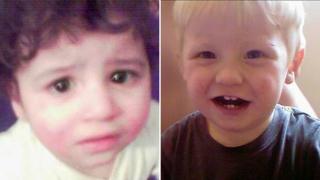 Few professions have been the subject of more controversy and scrutiny than social work.
Recent serious case reviews into the deaths of vulnerable children, Keanu Williams, two, and Hamzah Khan, four, have once again put the profession under the spotlight.
In Birmingham, the Department of Education has threatened to take the unprecedented step of taking over the city council's children's services.
But how do authorities recruit the right people to stop standards slipping in the first place?
Walsall Council is the latest authority to start a recruitment drive. It wants to find 14 of the "best children's social workers", paying a yearly salary of between £27,000 and £34,000.
The roles have been held by agency workers over the last few months, the council said.
"We need to bring in more permanent staff to get that stable workforce for the next few years, which is best for the children we serve," said Sue Butcher, assistant director for specialist services.
"What we mean by recruiting the best is finding people with the right attitude, vision and ambition to do the best for children, whether they be new graduates or people with years of experience.
"We're offering competitive salaries and ensuring our social workers can see progression in the careers to try and retain experienced staff."
At neighbouring Birmingham City Council, there are currently 82 unfilled vacancies in social services.
The authority said it was being thorough in its recruitment process to ensure it took on people with experience rather than those who were newly qualified.
'Out of a classroom'
The British Association of Social Workers (BASW) said councils may not have a choice because of a shortage of experienced social workers in the UK.
BASW manager Maris Stratulis said: "People are leaving roles and not always coming back to the profession.
"[It's] because of increasing pressures in the field, salaries are decreasing and there are examples that social workers are spending more time on admin and computer work than working with children, which is what they want and need to be doing.
"We want to see local authorities meeting the challenges of employing new social workers, making sure they're properly supported and mentored, as well as having experienced workers."
A government-backed scheme, Frontline, which runs a two-year "intensive" training course for social workers, aims to get them "out of a classroom and into the working environment".
Chief executive Josh MacAlister said: "The key to our course is more on-the-job training than any other route into the profession, to prepare people for the realities of social work.
"They'll spend over 200 days in practice whereas many social work courses only have 170 days."
People on the course will work for a local authority in London or Greater Manchester under supervision in their first year, before taking on caseloads in their second year.
James Rook is the managing director of recruitment agency Sanctuary Personnel, based in Ipswich.
He said on-the-job training was important but local councils "need the right structure in place for newly-qualified social workers to thrive".
"If your business model needs to rely on you only employing the very, very best to begin with it means you have a very fragile one.
"If you can get the best out of your staff using teamwork and a manageable number of caseloads then you can build something very strong.
"The danger is if social workers feel overwhelmed with workloads or have no career direction, councils end up in a vicious cycle or having to recruit every two or three years because workers don't want to stay.
"Retention of staff is as important as recruitment."