West Midlands Police target female genital mutilation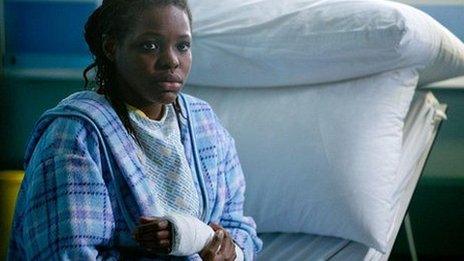 A poster campaign aimed at tackling a rise in reports of female genital mutilation (FGM) has been launched by police in the West Midlands.
The crime suffered by being "massively underreported", despite a rise in calls in recent years, the force said.
Referrals to police have risen from seven in 2011 to 24 last year and 32 in the first eight months of 2013.
Supt Tim Bacon described FGM as "a horrific practice" and said the posters were designed to reflect that.
FGM, or female circumcision, involves the partial or total removal of the female external genitalia, or other injury to female genital organs, for non-medical reasons.
It is sometimes performed before marriage, during pregnancy or even on newborn children.
The World Health Organisation said the dangers of FGM include severe bleeding, infection, infertility and increased risk of newborn deaths in childbirth.
"Anyone who knows about the practice and fails to act has blood on their hands," Mr Bacon said.
"It is illegal to carry out the act itself, to assist or arrange for someone to be taken abroad for FGM or to assist a woman who is a UK national or permanent UK resident to mutilate her own genitalia."
Alison Byrne, a specialist midwife at Heartlands Hospital in Birmingham, said she frequently came across women who had undergone female circumcision.
She said many of them had been left with "deep psychological issues" after undergoing the procedure as a child, often "without anaesthetic or consent".
FGM has been illegal in the UK since the 1980s, although it is understood there has not been a single prosecution in the UK.
In September, the Crown Prosecution Service said it was considering bringing charges in five cases.
Related Internet Links
The BBC is not responsible for the content of external sites.