Nikki Sinclaire MEP: 'UKIP made sex change revelation threats'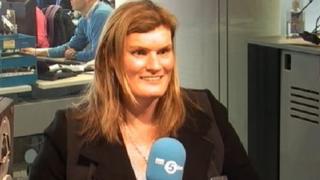 An MEP has told the BBC she revealed her gender reassignment secret because of threats from journalists and her former colleagues in UKIP.
Nikki Sinclaire, 45, an independent MEP for the West Midlands, left UKIP in 2010 after winning a sex discrimination case against the party.
She made the allegation in her first interview with the BBC since saying she had lived as a man until the age of 23.
UKIP said Ms Sinclaire's claims were unfounded.
Ms Sinclaire, the UK's first openly transsexual parliamentarian, told BBC Radio 5 live's Victoria Derbyshire that she feared other people would expose the fact she had undergone gender reassignment surgery.
The MEP said: "One of the reasons I've had to reveal this was threats from journalists and UKIP.
"They threatened to expose this and this is why I felt the need. Because people asked: 'Why are you saying this now?'
"Basically, I wanted to put my side of it before someone else put a distorted side out."
Expenses probe
UKIP leader Nigel Farage, who is in hospital recovering from a back operation, said he had not spoken to Ms Sinclaire for years and was "unaware of any threats to her".
She said she had complained about UKIP members' behaviour towards her at the European Parliament, which she said was conducting an investigation into the matter.
Ms Sinclaire remains on police bail following her arrest in February 2012 on suspicion of conspiracy to defraud the European Parliament.
The arrest was part of an inquiry following an allegation made in 2010 into allowances and expenses.
She told 5 live that she denied the allegations.
Speaking about the reaction to the revelation of her gender reassignment, Ms Sinclaire said none of her constituents at her surgery in Redditch this week had even mentioned it.
The MEP also spoke of the torment she experienced in the years before her surgery, revealing that a doctor had warned her that if she pursued her wish to no longer be a man she would "end up living in London as a drug addict and a prostitute".
Speaking of her misery at the time, she said she would not wish this on "the worst person on the world".
Ms Sinclaire also revealed that she suffered from deep vein thrombosis after the surgery, and almost died.
She said she was housebound for a year and suffered from "terrible" depression.