New Sky At Night presenter Dr Maggie Aderin-Pocock 'confused with tea lady'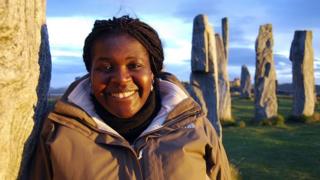 It was a love of the children's TV show The Clangers that got the new The Sky At Night presenter interested in space science. Now Dr Maggie Aderin-Pocock - who has faced many adversities in her life - is on a mission to get other women into the field.
"I've studied and worked in very male-dominated environments," says leading space scientist Dr Aderin-Pocock.
"When I got my first job with the Ministry of Defence there were a few times I walked into a room and someone would say, 'three coffees, love'.
"There's the initial shock because people aren't used to seeing black female scientists or engineers.
"I always tried to show them straight away I was competent and get their respect. That's when colour and gender disappear."
For Dr Aderin-Pocock, overcoming adversity has been a lifelong theme.
Born in 1968, her parents divorced when she was four years old and she spent her childhood moving from school to school in London - more than a dozen times in all.
"I was put in remedial class and people assumed I was not going to achieve very much," she says.
"I did feel written-off. It was like people put me at the back of the class where I couldn't do any harm. It was a bit depressing.
"But I always had a dream."
For the young Dr Aderin-Pocock, it centred around exploring the wonders of far-away planets and stars, especially those she watched on children's TV.
"I think The Clangers made me into a space scientist," she says fondly.
"I wanted to go and visit them.
"My problem with education was that I had dyslexia so I found reading and writing quite difficult."
'Saved' by science
But rather than hindering her, the frequent school moves eventually proved beneficial as she "outran" her file.
"My new school didn't have it and so they asked me what stream I should be in. I told them the top one," she said.
"I did well at science. In that respect, science 'saved' me. I knew it was a way to get my goal."
Encouraged to study by her Nigerian father, exam success followed and she went on to gain a physics degree and a PhD in mechanical engineering at Imperial College London.
From that job with the Ministry of Defence working on landmine detectors, her career has featured everything from telescopes in South America to building instruments that look into the heart of stars.
Her innate ability to communicate her passion in an engaging way previously saw her enlisted by the BBC for TV series including Do We Really Need the Moon? and In Orbit: How Satellites Rule Our World, while Stargazing for CBeebies is scheduled to air next month.
On Thursday it was announced she will be the new presenter of the corporation's long-running astronomy series The Sky At Night when it returns in February.
Her expertise was recognised in 2009 with an MBE for services to science and education.
But despite her success, Dr Aderin-Pocock is still something of a rarity - only 13% of all STEM (science, technology, engineering and mathematics) jobs in the UK are occupied by women.
That is a situation she is keen to see change.
"When you look at some of the figures - in physical sciences it is about a 30:70 split between women and men, and 10:90 in engineering - you wonder, 'how far have we come?'
"We have to change people's mindsets."
'Improvement unacceptable'
The scale of the task is not lost on Chi Onwurah, Labour MP for Newcastle-upon-Tyne Central, herself an electrical engineering graduate of Imperial College London.
"It's 25 years since I went into engineering and the proportion of women is still the same and minorities are not represented.
"There has been no improvement in that time. That's what I find unacceptable."
She blames a number of factors.
"There's a real issue in how we support and upskill teachers. For example, physics is often taught by chemistry teachers.
"Teachers need to be confident in order to inspire, but it's hard if you're not familiar with the subject."
Ms Onwurah points to campaigns such as Primary Engineer, Pinkstinks and Little Miss Geek as being important, but adds more must be done by companies.
"There's a lot of focus on getting the supply right, but there's also an issue with retention," she says.
"Working in an all-male environment can be very tiring. The culture needs to be supportive."
The Royal Society - the national academy of science in the UK - is preparing a report looking into the under-representation of people from lower socio-economic backgrounds, some ethnic minorities, women and disabled people.
In a statement, the organisation said: "A lack of diversity across the scientific community represents a large loss of potential talent to the UK.
"Restricted opportunity and diversity limits not only UK competitiveness and prosperity, but also vitality in the wider scientific workforce and creativity in society."
Rockets and aliens
For Dr Aderin-Pocock, enthusing children about the wonders of the universe is key.
Since starting her own company, Science Innovation Ltd, she has visited about 100,000 pupils at schools up and down the country giving "Tours of the Universe".
"At first, I saw myself being an Einstein-type with a pipe," she said.
"It was not until I started my degree I saw what kind of jobs were out there.
"It's about trying to engage with kids and show them the relevance of science. I can see the wonder of space and because of my job I can tell them about rockets and aliens, so it's an easy sell.
Dr Aderin-Pocock said any improvement in the number of women would "be a gradual one".
"But maybe in 20 or 30 years there will be so many women in science and engineering I will be out of a job," she says.
Should that be the case, she says she would not be too unhappy. Who knows, it may even give her the chance to fulfil one more long-held ambition.
"I still dream of travelling into space," she reveals.
"My plan is to live out the rest of my days on Mars."