EDL founder Stephen Yaxley-Lennon admits mortgage fraud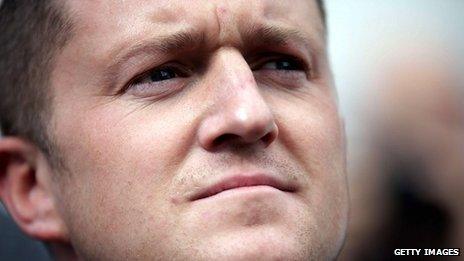 English Defence League (EDL) founder and former leader Stephen Yaxley-Lennon has admitted mortgage fraud offences.
He pleaded guilty to two counts of conspiring with others to obtain a mortgage by misrepresentation from the Abbey and Halifax banks.
The 30-year-old, also known as Tommy Robinson, committed the offences in 2009.
Robinson's address and the court where he appeared cannot be named for legal reasons.
He was warned he could face a prison term when he is sentenced in the new year.
Earlier this year, Robinson was jailed for 10 months for using someone else's passport to travel to the USA.
He left the EDL last month, citing increasingly racist elements within the group.
Yaxley-Lennon founded the EDL in 2009 after five Muslim men demonstrated in Luton against a homecoming parade by the Royal Anglian Regiment.