Dubai stranded racer Sean Emmett in immigration delay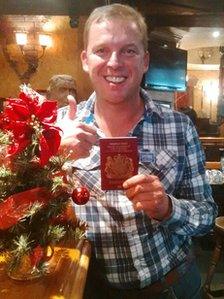 A man who has been stranded in Dubai for 10 months after the death of his wife has spent an extra night in a police cell instead of finally being flown back to the UK.
Former superbike rider Sean Emmett, from Surrey, said he was due to fly back to Heathrow overnight but faced a hold-up at immigration and a fine.
His passport was confiscated after the death but returned earlier this week.
Abbie Emmett fell from a hotel window in February, sparking an investigation.
Mr Emmett, of Addlestone, tweeted that he had expected to land at Heathrow on Wednesday morning, but found himself "still on the blacklist" at immigration.
He said he had to pay 2,000 dirham (£350) to be cleared for immigration and also spent the night in a cell.
Later, he tweeted: "Apparently I'm good to go now, just have to pay for change of flight ticket as I'm a no show even tho I checked in!?"
Mr Emmett has said his first priority on arriving in the UK will be to see his mother in Selsey in West Sussex and his children.
Mrs Emmett, 27, died after falling from a window at the Jumeirah Creekside Hotel, during a 48-hour stopover in Dubai after the couple's wedding and honeymoon in South Africa.
Her death was recorded as suicide, but later the Dubai media reported prosecutors were investigating whether she was murdered.
Mr Emmett's passport was confiscated when he went to a police station to complete paperwork over her death.
He was never arrested or charged over the death, but was fined 2,000 dirham (£350) for drinking alcohol without a licence.
Mr Emmett had to stay in Dubai after he was unable to get his passport back, but his documents were returned on Tuesday.
Related Internet Links
The BBC is not responsible for the content of external sites.