World War One: Edith Cavell and Charles Fryatt 'martyred'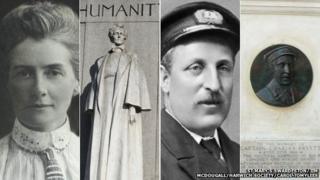 World War One claimed the lives of millions, but the deaths of two people still had the power to provoke outrage.
The executions of Edith Cavell and Charles Fryatt led them to become that most potent of weapons - the martyr.
Their deaths moved King George V and Sherlock Holmes creator Sir Arthur Conan Doyle to issue fiery words of condemnation, and their funerals brought thousands on to the streets.
Miss Cavell was cast as the innocent. A parson's daughter, she had a frugal childhood in the rural Norfolk village of Swardeston.
Unmarried, she became a governess and then a nurse before being invited to organise modern training for nurses in Belgium.
'Just incredible'
When war broke out she was safe, visiting family in Norfolk. But she insisted on returning to Europe.
Cavell expert Nick Miller said: "It's just incredible. Just as everyone else is trying to get out, with the German steamroller about to hit, she says 'I'm going back'.
"She sees her responsibilities - her Christian calling perhaps - as the nursing team, the college she has helped set up, and the fact there are likely to be wounded on both sides - and she goes back. That tells you a lot about her."
As well as treating wounds, Miss Cavell became part of an informal organisation that smuggled at least 200 allied soldiers into neutral Holland.
Mr Miller said: "She would have seen it as a necessary part of their care. If she just handed them over to the Germans they would have been thrown into a camp and left to fend for themselves.
"But the bravery required is mind-blowing. To shelter these men, take them to pick-ups, all under the noses of the Germans, is gallantry of the first order."
But in August 1915, Miss Cavell was betrayed and arrested. She openly admitted her role and was quickly tried for treason.
While she was held in St Gilles prison near Brussels, the United States and Spain made appeals for clemency.
'Calm courage'
But the British government was impotent. Sir Horace Rowland of the Foreign Office said: "I am afraid that it is likely to go hard with Miss Cavell. I am afraid we are powerless."
She was shot early on the morning of 12 October, aged 49.
Mr Miller said: "She faced her death with calm courage, she did not criticise those who condemned her or those who failed to help."
Charles Fryatt had already had a number of close shaves with German U-boats. After growing up in Harwich, Essex, he followed his father into the merchant navy.
In March 1915, captaining the SS Brussels, he attempted to ram a prowling U boat, actions that won him national acclaim.
But, on 25 June 1916, his ship was cornered by five gunboats and Captain Fryatt was imprisoned.
He was tried in Bruges on charges of being franc-tireur - a civilian engaged in hostile military activity. Captain Fryatt had earlier told his captors he did his duty to protect his crew but, according to press reports, was not allowed to speak at his trial.
The hearing, sentence and firing squad all took place on the same day, 27 July.
His great-granddaughter, Louise Gill, said: "It caused huge outrage at the time because he was a non-combatant, he was just protecting his ship and the people on it.
"When his funeral was held in Harwich, schoolchildren were given the day off and the streets were lined with people."
Among the lasting tributes, the local hospital was named after him.
Ms Gill added: "I am immensely proud his name is still to be seen throughout Harwich and when they teach history in the local schools, Captain Fryatt is still part of it.
"The Fryatt Hospital was recently going to be closed but it was saved and the name was saved and I think that saving the name is important to Harwich as well as the family."
In both cases, the Germans had intended to show defiance would not be tolerated. In both cases they acted in accordance with their military code and international law.
However despite that, in both cases they failed to consider the propaganda battle.
'Violated civilisation'
Newspapers across the world raged at the actions of the German army. Headlines were fat with words like "murder" and "atrocity".
Stephen Badsey, Professor of Conflict Studies at the University of Wolverhampton, explained: "Both were guilty of breaching military law and once the Germany military had determined they had a right to execute them they were going to go ahead and do it, without thinking through the wider impact.
"Germany also took the fundamental view that wars were fought by uniformed soldiers.
"A civilian caught engaging in anything that could be described as a military activity had, from their point of view, violated one of the basic tenets of civilisation.
"The reason they shoot Cavell and Fryatt goes deeper than just the technicality of the law - to them this was unspeakable behaviour, like a modern terrorist planting a bomb."
Conan Doyle wrote: "Everybody must feel disgusted at the barbarous actions of the German soldiery in murdering this great and glorious specimen of womanhood."
In a letter to Mr Fryatt's widow, King George V called his death an "outrage".
Every means of communication - songs, postcards, posters, films and even stamps - were used to convey these examples of "the Hun" at work.
Bodies exhumed
Prof Badsey said: "A lot of the British propaganda work was aimed at the then-neutral United States.
"Coming just months after the sinking of the [civilian cruise liner] Lusitania, Edith Cavell's death was an obvious opportunity."
Miss Cavell's picture was shown at army recruitment appeals. Soldiers chalked Captain Fryatt's name on artillery shells.
Both were initially buried close to where they were shot but shortly after the war their bodies were exhumed and brought back to England. The same train carriage was used in both cases.
Miss Cavell was given a funeral service in Westminster Abbey but, at the request of her family, she was laid to rest beside Norwich cathedral.
Capt Fryatt's funeral was held at St Paul's cathedral but his body was also taken home and buried at All Saints' Church, Upper Dovercourt, Essex.
He was celebrated in two main memorials but as well as the hospital, a road and a pub in Harwich also bear his name.
Miss Cavell was given a nearly a dozen memorials, including one on the edge of Trafalgar Square. The nurses college in Brussels and a charity for retired nurses are both named after her.
Mr Miller added: "She spoke to a chaplain on the night before she died and when he said he would think of her as a heroine and a martyr, she waved the idea away and said 'Think of me simply as a nurse who tried to do her duty'."