East Midlands Ambulance Service boss promises direct-action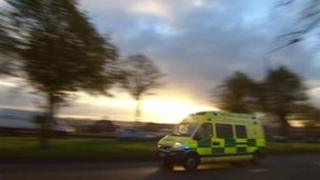 "Direct action" is being taken by East Midlands Ambulance Service to meet response time targets and improve patient care, its chief executive said.
Sue Noyes said the service faced "many challenges", but pledged it would meet targets by the end of March.
In May, EMAS was fined £3.5m after it had missed response time targets for a third successive year.
Mrs Noyes, appointed to her post after Phil Milligan resigned in August, said a number of changes were being made.
"From next week we will have a GP in our control room, along with one of our consultant paramedics," she said.
"It will be their job to make sure we are providing the right resources to the right incident."
Lost keys
Other changes to the service include improving communications between frontline staff and those in managerial positions.
Last month, senior management from EMAS were summoned to an emergency risk summit with NHS England over concerns about poor response times to emergency calls, patient safety and eight serious incidents which happened in October.
One incident involved the death of an 87-year-old man after an ambulance crew lost their keys.
The crew was unable to transport the man, who suffered a cardiac arrest at a Derbyshire golf pavilion and died at the scene despite receiving treatment.
EMAS also recorded one day when it was "unable to handle" its most serious 999 calls, an NHS report found.
A follow-up meeting with NHS England is due to be held in January.