Millions paid to delayed South East rail passengers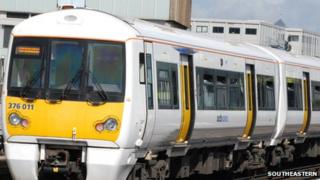 Train companies operating in south east England have paid out more than £2 million in a year as compensation to passengers for delays in journeys.
Passengers can claim compensation if they are delayed by more than 30 minutes, under the Delay Repay scheme.
In 2012/13 Southeastern paid out more than £520,000, and Southern passengers received £805,000.
First Capital Connect blamed track operators Network Rail for more than half of the delays.
'Increased awareness'
Under the Delay Repay scheme, for train journeys delayed by between 30 and 59 minutes, train companies will pay compensation of 50% of the single fare. Compensation worth the full value of a single ticket, or half the value of a return ticket, is payable for delays of an hour or more.
First Capital Connect, which operates routes from Brighton, Gatwick Airport and Sevenoaks to London and on to Bedfordshire, paid out £722,000 in 2012/13, an increase of £85,000 on the previous year.
Both Southern and Southeastern said increased awareness of the scheme had led to a rise in the number of claims.
First Capital Connect laid blame for some of the delays at the track operator's door.
A spokesman said: "More than half of delays on the network are caused by problems attributable to Network Rail."
Network Rail said it was investing in longer platforms and new signalling on the network.
A spokesman said: "Our priority is to provide the best possible level of service to train operators and their passengers."
Amber Rudd, the Conservative MP for Hastings and Rye, said: "It's absolutely pathetic that they blame each other, like two children making a mess.
"It's the passengers who suffer and ultimately it's the taxpayer, through Network Rail, who's paying the price."