World War One: Families that lost five sons to conflict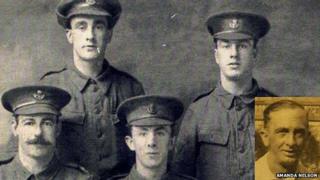 If there is a single word to sum up World War One, it might well be "loss".
The end of an era, the ruin of homes, the death of loved ones. But few could match the loss of three families devastated by the demands of war.
For the Smiths, the Souls and the Beecheys all had five sons die.
These stories mix sacrifice, hope, salvation and bitterness. But all are about loss.
As the name suggests, Poor House Yard was not in a good area of the County Durham town of Barnard Castle.
But John and Margaret Smith raised six sons there well enough for them to be fit to fight.
All enlisted in 1916 - long after any notion of a quick war had been stripped away.
But only their parents' worst fears would have hinted at what was to come.
Peter Wise has been researching the names on the town memorial.
"I had no idea about the story when I started but it soon became clear many of the Smiths named had come from the same family," he said.
"Barnard Castle had a strong link with the territorial army and that may explain why they all joined at the same time, they were in the reserve and were called up."
Robert died of wounds on September 19, 1916, aged 22. George, 26 was killed in action in November, while Frederick, 21, was killed in July 1917.
John, 37, was killed in October 1917 and then Alfred, 31, died of wounds in July 1918.
Only one, Wilfred remained.
The terrible news was sombrely recorded by the local paper, the Teesdale Mercury. But as well as inspiring sympathy, it led to a more practical, and highly ambitious, plan to help.
In August 1918, the local vicar's wife, Mrs Bircham, wrote to Queen Mary, wife of King George V, appealing for Wilfred to be taken out of harm's way.
Mr Wise said: "My sense is that the town felt this was a just thing to do. Many families had suffered but no one like the Smiths.
"What is remarkable is they approached the Queen, rather than the MP or someone like that. They must have felt she would give them a sympathetic hearing."
Buckingham Palace responded, conveying "her majesty's deep sympathy".
The letter added: "The Queen has caused Mr and Mrs Smith's request concerning their youngest son to be forwarded for consideration of the war authorities."
'Celebrity family'
After what must have been a nerve jangling few weeks, Mrs Smith was informed Wilfred would be posted away from the front and "as near as possible to his home at Barnard Castle, on compassionate grounds".
Wilfred came home. He raised a family in Barnard Castle.
His granddaughter, Amanda Nelson, still lives in the town.
She said: "It is strange to think that without the Queen getting involved, I might not be here.
"I am very proud of all of the brothers and now it feels like I am part of almost a celebrity family."
Two clues remain to show how the parents fared.
In November 1920, the Mercury carried an appeal for John Smith, the brothers' father, who had fallen on hard times.
Then, on 13 October 1923, Barnard Castle's war memorial was dedicated, with all five brothers listed. One of the first to lay a wreath was Margaret Smith, described in the newspaper report as a "pathetic figure", supported by her surviving son.
Incredibly, two more families were left with a similarly terrible legacy.
Amy and Reverend Prince William Beechey had raised 14 children in a Lincolnshire vicarage but she had moved to a small terraced house in Avondale Street, Lincoln, after his death.
Letters home
All eight of her sons enlisted but only three returned. Barnard, aged 38, Charles, 39, Leonard 36, Frank 30, and Harold 26 all died in action or of wounds soon after.
Following an appeal by modern researchers, letters written to Mrs Beechey by her sons came to light.
Mr Walsh, who wrote the book Brothers in War about the Beecheys, said: "The letters just tumbled out of a battered brown suitcase and one of the first I saw had 'Killed in Action' scrawled across it".
"It was all the letters written from the trenches over the war and, one by one, the letters stopped coming. Instead they got the war office form telling them another had been killed in action."
In April 1918, Amy Beechey was presented to King George V and Queen Mary who thanked her for her immense sacrifice.
Her response was blunt.
"It was no sacrifice, Ma'am," she told the queen. "I did not give them willingly."
Len Beechey is buried at St Sever Cemetery near Rouen. Nearby is Private Walter Souls, from another family which saw five brothers to die.
Walter, from Great Rissington in Gloucestershire, died of wounds aged 24. Albert was killed aged 20, while Frederick, Alfred and Arthur were all aged 30, when they were killed at different times in the war.
Cruel rumours
Mr Walsh, who also researched this family, said: "Their mother, Annie Souls, afterwards refused to stand for the National Anthem, making one exception years later so as not to embarrass her granddaughter at a school concert.
"She left the village after the war, partly stung by gossip saying she would profit from the pensions awarded to her sons.
"In a cruel twist of fate her last, youngest son died of meningitis soon after the war."
The Beechey brothers letters are now held at the Museum of Lincolnshire Life.
St John the Baptist, Great Rissington, has a memorial with pictures of the Souls brothers.
A book is being planned about the Smith brothers.