Yorkshire Wildlife Trust: HS2 will 'destroy' nature reserve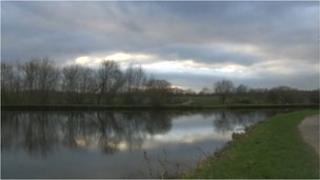 The second phase of the HS2 high-speed rail line will destroy at least one nature reserve, the Yorkshire Wildlife Trust has claimed.
The charity said the line would dissect Water Haigh Woodland Park, near Leeds, and it would also seriously impact on Woodhouse Washlands, near Sheffield.
HS2 Ltd said it was committed to minimising the environmental impact of the route between Leeds and Birmingham.
The trust said it was unconvinced by the economic benefits of HS2.
'Significant damage'
Chief executive Rob Stoneham said: "It will not be a pretty site and it will completely dissect living landscapes full of wildlife.
"If you are building a new railway line of course you will go through countryside but we need to think about whether the destruction of all that countryside is worth it?"
He added the route would also have an impact on other wildlife habitats and several ancient woodlands as it crossed Yorkshire.
"The level of damage is very significant and we are not convinced by the economic and social benefits of HS2," he added.
A final route for phase two is expected to be chosen by the end of 2014.
Chloe Lewis, environmental manager with HS2 Ltd, said: "The phase 2 route is not fixed and we would encourage the trust to come forward with their consultation response and give us as much information about their concerns as possible.
"HS2 has a policy of no net-loss to biodiversity so wherever we are impacting on habitats we will be recreating them elsewhere."
Construction on the extension is expected to start in the middle of the next decade and would be completed by 2032-33.