Ex-prisoner Peter Watton 'had been watching sex victim'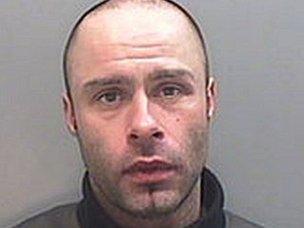 A former prisoner accused of raping a woman held captive for more than nine hours told her he "had been watching her for two weeks", a court has heard.
Peter Watton, 37, of Chester, denies attacking the woman in the city 48 hours after being released from prison.
The Chester Crown Court jury was shown a video interview with the woman two days after the alleged attack in June.
The 44-year-old woman told police he said: "If you say anything to anyone, I will hurt you and your family."
The jury was told she was tied up and threatened after being targeted while jogging. Watton claims she consented to sex.
During the police interview, the woman described jogging along a footpath and passing a man with a bike, who then pushed her from behind into bushes.
The jury heard Watton allegedly told her he had a knife. She was later taken to another secluded location, where she was attacked again, the court heard.
The woman told police she tried to build up a rapport with her attacker to help her escape.
She said Watton told her he blamed drugs for his behaviour and added: "I'm really sorry, you're a nice person. I feel awful, I want to die."
The court head Watton had been released from prison halfway through a six-year sentence for kidnap and robbery.
He denies 12 charges, including rape and false imprisonment.
Related Internet Links
The BBC is not responsible for the content of external sites.