Gang guilty of trafficking women to work as prostitutes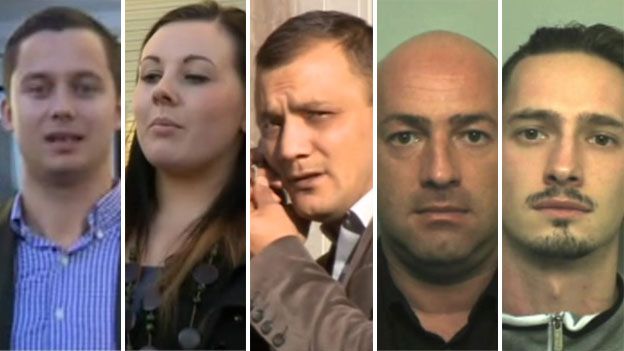 Four men and a woman have been convicted of smuggling women into the UK from eastern Europe and setting them up in hotels as prostitutes.
Mate Puskas, 25, Victoria Brown, 25, Zoltan Mohacsi, 36, Istvan Toth, 34, and his brother Peter, 28, had denied conspiracy to control prostitutes and trafficking for sexual exploitation.
Hove Crown Court heard at least 53 women were recruited in Hungary.
They were then brought into the UK via Luton, Heathrow and Gatwick airports.
Jurors were told the "poor and vulnerable" women were chaperoned in small groups.
Some were put up in hotels and brothels in Eastbourne in East Sussex, Folkestone and Margate in Kent, and Woolwich in south-east London.
Others were said to have worked out of rooms in student accommodation at Sussex University.
Brown had worked as a PA at an engineering firm in Brighton, and was described in court as the logistical organiser of the operation.
Her former partner Puskas organised transport, hotels and clients, along with Mohacsi and the Toth brothers.
Puskas, of Billingshurst Road in Ashington, West Sussex; Brown, of Ockley Road in Bognor Regis; Mohacsi, from Cranbrook Road in Ilford, east London, and the Toth brothers, both of St John's Road, Eastbourne, will be sentenced on Wednesday.
Portia Ragnauth, acting chief crown prosecutor in the South East, said: "None of us can imagine how desperate the victims were in this case.
"In many instances, they came to the UK to try to escape financial difficulties at home.
"Payments for their flights were often made by one of the five individuals convicted today. Once in the UK these debts were used as a hold over the women who were forced to work for up to 12 hours a day.
"When the women told the group they did not want to work as prostitutes, threats would be made against them and their families back in Hungary.
"Threats were also made to expose the work they had been doing in the UK in their home country."
She added: "I would like to take this opportunity to pay tribute to the bravery of the victims who gave evidence in this case.
"We know how incredibly difficult it was for them, especially as we know that the reach of this criminal group extends back to Hungary."
Related Internet Links
The BBC is not responsible for the content of external sites.