Thames Valley PC Sugra Hanif 'stole and sold details'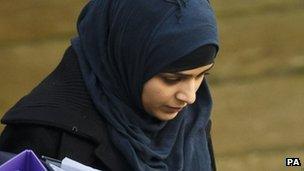 A police officer stole thousands of accident victims' details from her force computer and sold them with her lover and his wife, a court has heard.
Thames Valley PC Sugra Hanif is charged with obtaining and disclosing personal data and conspiracy to commit misconduct in a public office.
Raza Khan and Parmajeet Kaur, from Birmingham, have also been charged in relation to the case.
They are charged with conspiracy to commit misconduct in a public office.
Mr Khan, 27, of Ivy Road, Handsworth, also faces a further charge of obtaining personal data. All three deny the charges.
Peter Asteris, prosecuting, told the jury the conspiracy began in January 2011 when Ms Hanif, 27, of Bretch Hill, Banbury, was having an affair with Mr Khan.
He said she would access the police command and control computer to note down the personal details of members of the public involved in road traffic accidents, including the unique reference number (URN) each incident was given.
The court heard the trio set up case management companies to sell the information to firms of solicitors who would pay them a referral fee for each case that led to a successful compensation claim.
Mr Asteris said each referral fee was worth between £600 and £800, and they gained a total of £26,400 from the 2,456 case details Ms Hanif stole during the 11-month conspiracy.
"If all of the data stolen had been converted into referral fees, if they had kept going, the value of those referral fees would have been worth over £1m," he added.
The jury was told the case was about "integrity, honesty and duty".
Mr Asteris said Ms Hanif "doesn't have integrity, she didn't fulfil her duties to us, the public, in the way she ought and she abused her position" with the assistance of Mr Khan and his wife Mrs Kaur, 26, also of Ivy Road, Handsworth.
He said accessing the information had "no connection with her duties, no connection with her responsibilities as an investigating officer" and added it was "a deliberate and cynical abuse of the privilege she had been given".
The court heard Ms Hanif claims she was forced under duress by Mr Khan to steal the data, while Mr Khan and Mrs Kaur claim they did not know the data was illegal.
Related Internet Links
The BBC is not responsible for the content of external sites.