Plymouth market closed as storms hit fishing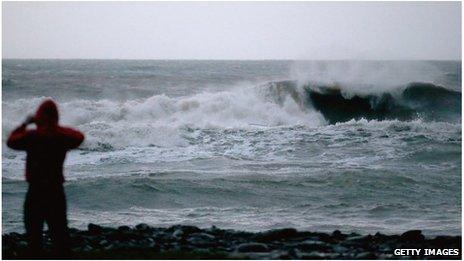 Plymouth Fish Market was closed on Monday because of a lack of fish from boats tied up in storms.
Market managers said that on Tuesday they only had two boxes of fish to sell and on Wednesday they would have only three boxes, equivalent to less than half a tonne of fish.
More than 15,000 tonnes of fish was landed in Plymouth in 2012.
But some fisherman have had their boats tied up for weeks as a result of poor weather.
Tony Chown, the market's floor manager, said: "It's down to the weather, people can't move."
One fisherman whose boat has been tied up since 16 December said he expected to get back out on Wednesday as the poor weather eases.
David Stevens, of Crystal Sea Fishing in Newlyn, Cornwall, said large swells would have made fishing uneconomic, dragging fishing gear off the sea floor.
"The prices are exceptional now and we are just waiting to get out and make the most of it," he said.
"We would normally get £9-10 a kilo for monkfish and it is up to £15 and £16. Plaice is up 50%.
"It has been frustrating, but it will be worth it after the long wait.
"I think we will get three to four days in but the long-term forecast is looking poor again."
On Monday, waves of up to 27ft (8m) were recorded off the Cornish coast.
Related Internet Links
The BBC is not responsible for the content of external sites.