London-Hastings rail passengers face more disruption after landslip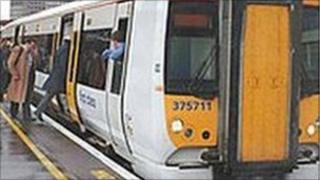 Passengers using a key rail route between London and the Sussex coast face several more weeks of disruption, it has been revealed.
Network Rail's boss for London and the South East, Dave Ward, told MPs it would take three weeks to repair the landslip, at Wadhurst, East Sussex.
The slip, on 23 December, initially forced Southeastern to cancel services.
But although the line has now reopened, trains are running at significantly below normal speeds.
Some rush-hour trains to Charing Cross will not now call at Sevenoaks, Orpington and London Bridge as a result of the disruption.
Plans 'went awry'
Mr Ward was one of two rail executives called before the Commons Transport Select Committee following the severe disruption caused by storms in December and earlier this month.
Committee chairman Louise Ellman questioned both of them about the problems caused by the Wadhurst landslip - one of two that closed sections of line between Hastings and Tonbridge around Christmas.
She said passengers had complained that there were no replacement buses available on 27 December, even though the Wadhurst landslip had been several days earlier.
Mr Ward said contingency plans had gone awry after more bad weather caused further damage when the line had been due to reopen on 27 December.
"We did have a plan, but the further storm scuppered that," he said.
Speed limit
Mr Ward said Network Rail had invested more than 10,000 additional man-hours on clearing tracks and making lines safe, at a cost of "millions, if not tens of millions" of pounds.
Although the line is now open, a 5mph speed limit is in operation on a stretch near Wadhurst.
Southeastern has confirmed it will be in operation "for the long term" while Network Rail builds an access road to get to the site of the landslip.
However, a section between Battle and Robertsbridge, in East Sussex, which is currently subject to a speed restriction, may return to normal on Thursday after a supporting wall was completed.
Much of Kent and Sussex continues to be threatened by flooding, although there is now only one flood warning in place - for a stretch of the Kent-East Sussex border.