Gang jailed for trafficking women to work as prostitutes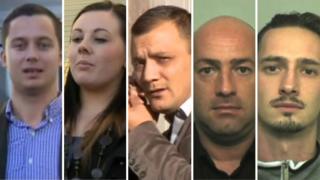 Five members of a gang who smuggled women into the UK from Hungary to work as prostitutes have been jailed.
Mate Puskas, 25, Victoria Brown, 25, Zoltan Mohacsi, 36, Istvan Toth, 34, and Peter Toth, 28, were found guilty of trafficking for sexual exploitation and conspiracy to control prostitutes.
Hove Crown Court heard the women they trafficked were set up in brothels and hotels after arriving in the UK.
Judge Richard Hayward said their behaviour was "repugnant".
All five were convicted on Tuesday following a seven-week trial.
'Appalling gang'
Puskas, formerly of Billingshurst Road in Ashington, West Sussex, was jailed for six years; Brown, formerly of Ockley Road in Bognor Regis was sentenced to three years; and Mohacsi, formerly of Cranbrook Road in Ilford, east London, was given four years in prison.
Istvan and Peter Toth, both of St John's Road, Eastbourne, were jailed for five years and four years respectively.
The Hungarian brothers were sentenced in their absence after going on the run in September. Both were also sentenced to nine months in prison after being convicted of contempt of court for breaking bail.
At the trial, jurors were told at least 53 "poor and vulnerable" women were recruited in Hungary and brought into the UK via Luton, Heathrow and Gatwick airports.
Some were put up in hotels and brothels in the south-east of England in Eastbourne, Folkestone and Margate, while others were said to have worked out of rooms in student accommodation at Sussex University.
The Home Office said others were sent to other areas, including Liverpool, Norwich and Bristol.
Most of the trafficked women have since returned to Hungary.
David Fairclough, from the Home Office's Immigration Enforcement Criminal Investigations team, said the "appalling gang" had "controlled the women mentally, physically and financially".
He added that they had "preyed on the vulnerability of young women who came to the UK in the hope of finding a better life".