Will other cities want a minister like Portsmouth's?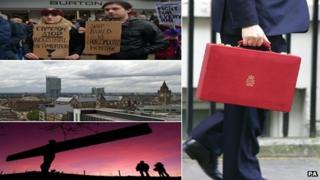 As one of the city's MPs prepares to make her diving debut in the reality TV show Splash, Portsmouth is to be afforded the privilege of having its own minister.
Conservative Michael Fallon will take on on the role while the area recovers from the decision by BAE Systems to close a shipyard, resulting in the loss of 900 jobs.
Alexandra Jones, chief executive of the thinktank Centre for Cities, said the ministerial appointment was an "attempt to demonstrate the focus" the government had on the shipyard jobs.
She said the move was "pretty rare" - the last city to have its own ministerial champion was Liverpool, when Michael Heseltine was handed the job at the height of Merseyside's battles with the Thatcher government in 1981.
'Reconsider the case'
Ms Jones said there may well now be a "chorus" of appeals from around the country for more influence.
"I'd imagine many places will say 'Portsmouth's got a minister, we could use one too'," she said.
Under the last Labour government, ministers were appointed for each region, but the roles were scrapped by the coalition.
Newcastle East MP Nick Brown was minister for the North East and has called for the position to be reinstated to support efforts to tackle issues such as youth unemployment.
Mr Brown said appointing a minister was "the right thing for Portsmouth given its situation" but also "the right thing to do for the North East".
"I welcome the government's announcement," he said.
"The government should reconsider the case for doing the same thing for the North East."
In October, David Cameron told Mr Brown the government was committed to "decentralisation of power" from government and pointed to initiatives including the Regional Growth Fund, which aims to help businesses create jobs around the country.
Other efforts to allow the regions to go their own way are the responsibility of cities minister Greg Clarke.
Councils in Greater Manchester came together to form the country's first combined authority, giving the area more control over decisions on planning, regeneration and transport spending.
But similar plans in the North East appear to have reached an impasse.
At the same time as expecting a series of special case pleading from some cities, Ms Jones said other areas of the country are confident in mapping their own success.
"More and more cities are confident about who they are and where they're going," she said.
"I'd imagine Portsmouth will be a big exception in terms of getting a minister."