New Burlesque: Is it empowering or demeaning to women?
John Hess
Political editor, East Midlands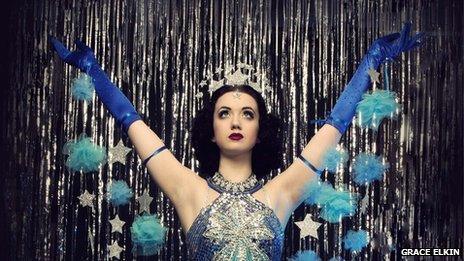 "Burlesque? Of course it's political," I was told in no uncertain terms.
Anyone who thinks of this risque entertainment as just nipple tassels and fishnet stockings needs to think again, says Dr Jacki Willson, a Nottingham-based academic expert on Britain's New Burlesque and its renewed popularity.
But not everyone welcomes the revival of this entertainment which was popular in Victorian Britain. And it's sparked some debate: Does burlesque empower or demean women in 21st Century Britain?
I've been hearing from all sides for BBC One's Inside Out programme. There's a new generation of intelligent, savvy and creative university-educated women, who have embraced this new wave of a music hall tradition.
"It's not just about stripping," Eliza DeLite told me. She's a rising international burlesque star.
She had her first experience of performing after attending her university's burlesque society at Leicester's De Montfort.
"It's not about nudity," she added.
"It's about what you are NOT showing, and teasing the audience with fabric and costumes."
Eliza is one of an increasing number of burlesque performers in a thriving East Midlands scene. She runs her own club, the Electro Tease at Leicester's "Basement" venue.
"A lot of burlesque performers are coming off a stage wearing more than you would see on a beach," added Miss DeLite.
So what's the fuss? Ask Labour politician Susan Press. She's the chair of the Hebden Bridge Picture House Committee in West Yorkshire.
It was her committee of local councillors that sent shock waves round the burlesque community by banning a show.
"Burlesque is a sexual form of entertainment and it's regressive," she told me.
Susan's politics were forged in the heat of 1970s women's liberation.
"The portrayal of women in this type of show is something we fought against a generation ago," said Ms Press.
She rejects claims that the New Burlesque is an expression of the so-called "Fourth Wave of Feminism".
"My committee took the view that a burlesque entertainment wasn't an appropriate use of a public building, and it would cause offence to a significant part of the community."
In Nottingham, I met the burlesque performer whose show was pulled.
"I was furious," said Miss Heidi Bang Tidy.
"Burlesque is a genuine passion in my life. And if somebody tries to tell me what I choose to do with my time, I'm going to fight for that."
But is Susan Press right? Is Burlesque no more progressive for women's rights than, say, The Sun's "Page 3"?
"With Page 3, the women seem to be trying to please a male audience. Burlesque isn't about that," said Jacki Willson, who describes herself as a feminist.
She's the author of "The Happy Stripper", the first serious academic study of the New Burlesque phenomenon. Her follow-up book is published this spring.
"There's this argument that if you're feminine and wearing lipstick and glamorous clothes, you can't possibly be feminist. New Burlesque is challenging that.
"You can be feminine and feminist. It is empowering. And yes, it is political."
That's backed up by Ellie, aka "Scarlett Daggers", the creator of the Nottingham-based "Gilded Merkin" burlesque show.
"It's about building women's confidence," Miss Daggers told me.
"You get to see confident women of all shapes and sizes on the stage.
"That's inspired many women to feel more comfortable in their own skin. And it makes women feel good about themselves."
That's also the experience of a relative newcomer to "strutting her stuff" on stage. "Lila Lawless" is the stage name of Jess Lloyd, a graduate in history and Chinese at Nottingham University. She's also running her own shows.
"It's a vulnerable thing to get up on the stage and basically take your clothes off", she told me.
"But if you can do that, what can't you do. Before I did burlesque, I was shy and introverted. Now I have never felt more confident."
The burlesque revival also has spin-offs for the creative industries of the East Midlands. One burlesque show in Nottingham, Dr Sketchys, enables artists to draw and sketch performers.
It attracts fashion designers and is helping to revive the city's clothing sector. And graphic designers from Nottingham's growing digital industries are also found in the audience sketching away.
"It's very inspiring," said illustrator Charlotte Thomson-Morley.
"As an illustrator, getting into the burlesque scene was an opportunity to be involved in something that's very, very vibrant. And the performers are so confident."
So is burlesque empowering or demeaning to women? And can performers both flirt and be feminist at the same time?
Watch BBC Inside Out in Yorkshire and Lincolnshire on BBC One at 19:30 GMT on 17 February.